Australian Wingless Sprint Racing is excited to announce that the nominations for the 2017-18 season Australian Wingless Sprint Championship at Sydney's Valvoline Raceway are now officially open.
Returning to the premier Sydney, NSW track for the second time since the event's inception, this season's Australian Championship is gearing up to be the biggest one yet, with the track's central location making it easy for drivers and teams throughout Australia to participate.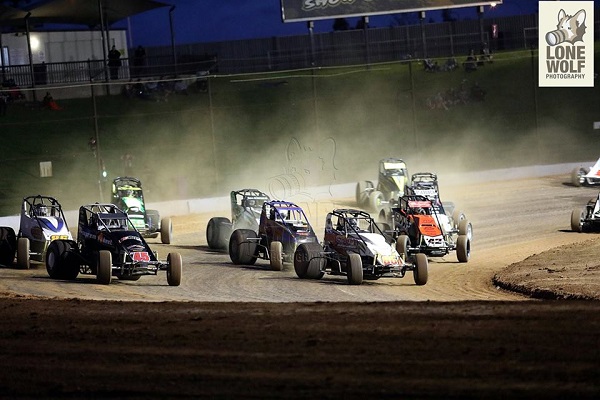 Photo: Lone Wolf Photography
The current record number of nominations received for an Australian Championship occurred at the 2012-13 season running of the event at Warrnambool's Premier Speedway, where 91 drivers all vied for the crown; however, AWSR President Mick Parry is attempting to outdo this record.
"We're really hoping to receive over 100 nominations for this season's Australian Championship and create a new attendance record in the process," commented Parry
"We're looking forward to bringing the prestigious event to such a great venue, particularly with Valvoline Raceway having Clay-Per-View facilities, making it easier for family and fans across the country to be involved in the action if they're unable to make it to the track."
In order to simplify the nomination process for drivers, the AWSR has introduced an automated payment system through Register Now, where drivers will be able to complete online payments for club membership and nominations, along with tickets to the Australian Championship calcutta. Additional calcutta tickets are also available to members of the general public through a dedicated Register Now link.
DRIVERS: https://www.registernow.com.au/secure/Register.aspx?E=28329
CALCUTTA TICKETS: https://www.registernow.com.au/secure/Register.aspx?E=28328
Scheduled to be held over three days from February 1-3, scrutineering and the calcutta will be held on the Thursday night at the Wenty Leagues Club in Wentworthville, with racing to commence on Friday night, with drivers completing practice, three rounds of qualifying heat races and a preliminary feature race. The final night of competition on Saturday will see drivers contest the remaining round of heat races, a D, C and B main, and the Australian Championship-deciding feature race.
A range of Australian Championship merchandise will also be made available for purchase both prior to the event and at the track during the three-day event.
For more information on the AWSR, visit their website at www.awsr.com.au or LIKE them on Facebook or Follow them on Instagram and Twitter by searching Australian Wingless Sprint Racing.