With the 2017-18 season now underway, Australian Wingless Sprint Racing is looking forward to the huge calendar ahead, which features five state titles, numerous blue-ribbon events, a handful of series point standings and the always hotly-contested Australian Championship.
While the dates for the Queensland, Tasmanian and NSW Titles are yet to be confirmed, this season's Australian Championship has been locked in, taking place over three days from February 1-3 at one of the country's premier speedway tracks – Sydney's Valvoline Raceway – closely followed by the Victorian Title at Simpson Speedway a fortnight later.
The following month will see the running of the Western Australian Title at Carnarvon Speedway and the South Australian Title at Mildura's Timmis Speedway.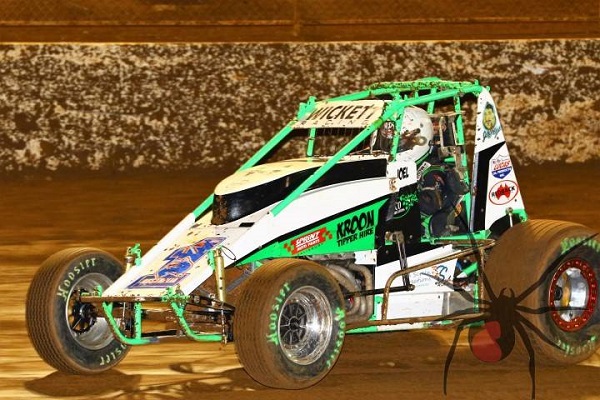 Photo: Savage Shots Photography
The shining light for South Australia and Totally Speedway's # 1 ranked Wingless Sprint driver throughout the country for the 2016-17 season, all eyes will be on Joel Chadwick this season, as he attempts to defend both his Australian and South Australian Titles, while no doubt featuring strongly in a number of other blue-ribbon events.
Getting his season off to the best possible start recently, claiming the win at Murray Bridge Speedway, Anthony Tapley will be hoping to continue his early season form as the season progresses, as will Matthew Kennedy, who took out last Saturday night's feature race victory at Murray Bridge Speedway. The likes of Spencer Taylor, Michael Spoljaric, Joel Heinrich, Brad Evans, Darryl Sloan and Dale Gesell will all be looking to take a consistent approach to their Club Championship campaigns.
Taking out last season's Valvoline Raceway Track Championship and the NSW Driver's Driver award, Dean Thomas is a likely candidate to once again perform well in domestic competition throughout his home state, while NSW Club Championship and Valvoline Raceway Track Championship runner-up Daniel Flood will no doubt be hoping to repeat last season's efforts, after reaching new heights by winning the Queensland Title at Toowoomba's Hi-Tec Oils Speedway.
Troy Carey couldn't be in better form heading into the 2017-18 season, after a strong showing in the Northern Territory saw him claim his maiden state title crown at Darwin's Northline Speedway; nor could Peter Granger, who claimed last Saturday night's opening Club Championship round at Valvoline Raceway. Ian Boettcher Race Parts Easter Trail winner Mark Blyton is always competitive, with the veteran racer racking up a number of feature-race wins last season to finish third in the Club Championship, with his son, Marshall, a former Queensland Champion, placing fourth. Harley Smee, Luke Sayre and Sean Dicker will also be ones to watch.
As one of Queensland's strongest competitors last season, defending Club Champion Glenn Wright will be shooting to continue that form, along with runner-up Jason King and Cody O'Connell, who enjoyed a pleasing debut season in 2016-17 to finish third. After a season on the sidelines, Brant Chandler has already proven that he hasn't lost his touch, recently winning the opening Ian Boettcher Race Parts Club Championship round at Brisbane's Archerfield Speedway.
Heading up the strong Victorian contingent will be Luke Weel, who wrapped up the Super Series point standings by virtue of four wins out of the seven rounds, and he also put in an impressive performance during the Australian Championship, qualifying in pole position for the second consecutive season, before experiencing a DNF. Weel has already tasted victory this season, winning last Saturday night's Twin Feature night at Geelong's Avalon Raceway.
Current Victorian Champion and Australia # 4 Glenn Watts is a regular front-running contender and will be expected to fare well this season, along with competitive Millar siblings, Travis and Samantha, with Travis taking out the Autobarn Eastern Challenge and the Max Dumesny Motorsport Aggregate point score, while Samantha topped the point standings in the Salt Electrical Ladies of the Dirt Series.
Completing the top three in the Autobarn Eastern Challenge, Peter Logue and with Dayn Bentvelzen will hope to continue their solid consistency and pace this season, while current Australia # 3 Daniel Storer and his brother Luke, Sam Wren, Tony Moule, Wayne Logue, Ebony and Todd Hobson, Nic Green, Wayne Hurford, Carly Walsh, Mick Parry, Marcus Green, Geoff Cook, Most Improved Driver Michael Skene and last season's Rookie of the Year Michael McDonald are all going to be giving it their all in order to achieve some positive results throughout the season.
After a stellar 2016-17 season, which saw him finish a close second to Chadwick in the Australian Championship in his home state of Tasmania, the always-competitive Luke Redpath will be difficult to beat, having also claimed top honours in the Tasmanian Title. The Driver's Driver award recipient won't go unchallenged, with Tasmanian Point Score and BCF Series winner Jeremy Smith amongst the state's competition.
Bradley Walkley will be expected to perform strongly throughout the season, off the back of placing third in the Tasmanian point score. Rookie of the Year Ryan Harding will be hoping to continue building on his consistency, after a pleasing debut season saw him place second in the BCF Series, while Hadyn McBain, Jamie Rolls, Joe Turnbull and Luke Wilson will also be aiming to put their best foot forward this season, as they attempt to collect valuable points and achieve strong series results.
Once again dominating competition throughout their home state of WA, best mates Tom Payet and Daniel Hartigan will not be easy to beat in the 2017-18 season. Achieving a hat trick of WA Title victories, Payet also took out the Perth Motorplex Fast Series, while two-time Australian Champion Hartigan managed to win both the Club Championship and the Country Series, along with scoring the most feature-race wins with six.
Also performing well in series competition were Brad Taylor, Ashley Pittard and Brendon Wedge, while Matty Fellowes and Dean Gittos will also likely be competitive. Hoping to continue gaining experience throughout the season will be Dylan O'Connor, Daran Humfrey and last season's Rookie of the Year Brody Miller.
With the 2017 Northern Territory season at Darwin's Northline Speedway having recently come to an end, WA-based driver Sam Borlini had a solid season, collecting four feature-race wins aboard the Mike Borchardt-owned NT # 14 car, including the Malidook Challenge, while Chris Harrison and Jarrod Garraway each claimed two. Sean Tiedeman was the best of the locals in the NT Title, placing seventh.
For more information on the AWSR, visit their website at www.awsr.com.au or LIKE them on Facebook or Follow them on Twitter by searching Australian Wingless Sprint Racing.