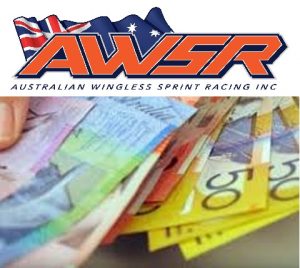 To all Wingless Sprintcar Owners,
In light of the COVID-19 world we are living in, the AWSR Committee has agreed that we should be helping out our car owners in some form.  AWSR are therefore going to offer a reduced registration fee for the 20/21 racing season.  This is of course for the AWSR portion of the registration costs only, as the SCCA portion of the fees currently remain the same.
Therefore the season 20/21 total registration cost will now be $200 (inclusive of SCCA fees) plus any stripe admin fees.
This fee change will take effect on the AWSR website from Midnight this Friday 23rd October 2020 AEDST.
Those who have registered their Wingless Sprints already this season, will now be given a partial refund of $195 in the weeks following the activation date of the new registration fee amount.
AWSR hopes that this small gesture helps out our car owners in some way, and that we all stay safe and can get back racing as soon as possible in your respective states.
Sincerely the AWSR Committee.