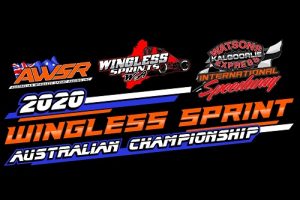 Locals Line-up For Championship Tilt
By Phil Michell Motorsport Media
The 2020 Australian Wingless Sprint Championship at the Watson's Express Kalgoorlie Speedway is only a week away with a field of 33 drivers confirmed to decide who will be the Australian Champion. As expected of the 33 nominations the host state of Western Australia dominates the list with 18 local drivers attempting to become the third Western Australian to claim the ultimate prize.
The two previous Western Australian winners include Daniel Hartigan, who is a two-time Champion having won at Bunbury in 2014 and at then again at Toowoomba in 2016 and Darryl Clayden, who won at the Borderline Speedway in Mount Gambier in 2010.
Of the locals there are several major contenders who may drive away with #A1 including Matthew Iwanow, Dean Gittos, Chad Pittard, Brendon Wedge, Daran Humfrey and Ash Hounsfield.
Of the local hopefuls Iwanow and Pittard will be among the event favourites as they have recorded some impressive recent results. Matthew Iwanow, who will drive the #3 Ultra Tune Cannington supported machine is a former Western Australian Champion having captured the WA State Title in 2018 while Dean Gittos was second the last time the Australian Championship was held in Western Australia at Bunbury in 2014. Gittos was also the WA Title winner the same year.
Chad Pittard will also go into the event full of confidence having finished third in this year's Western Australian Title at Bunbury on New Year's Day and he also has a feature win at the Perth Motorplex this season.
Although not a household name Brendon Wedge has finished runner-up in the past two Western Australian Titles and his most recent A-Main victory came on Boxing Day at the Perth Motorplex, so he has proven that he knows what it takes to run up front.
Ash Hounsfield also has shown recent speed in his Century Batteries #95 with a feature win two weeks ago at the Perth Motorplex defeating Victorian standouts Daniel and Luke Storer.
The Keenquip Racing Team will also be one to watch with Daniel Keen performing the driving duties. Keen is a former Australia #2 having finished behind Todd Wigzell at the Valvoline Raceway in 2012 in addition to winning the Western Australian Title in 2013.
The remaining Western Australian entries include Brad Fitzgerald, Tom Britton, Paul Robinson, James Bissaker, Stephen Hughes, Lee Tattam, Tyson Bryden, Matthew Fellows, David Shaw, Mathew Burston and Warren Hunter.
The Australian Wingless Sprint Championship will take place at the Watson's Express Kalgoorlie Speedway between February 28 and March 1, 2020.
Release By Phil Michell Motorsport Media for AWSR
Ends Release…