Fought out over two big nights of racing at Murray Bridge Speedway, last weekend's South Australian Wingless Sprint Title saw Victorian driver Daniel Storer come away with the winning spoils after making the most of a late-race restart.
With 48 drivers amongst the talented field from the host state, Victoria, New South Wales and even Western Australia, clinching the state title crown was never going to be an easy feat, particularly with defending and three-time South Australian Champion Joel Chadwick in attendance.
Proving his worth as one of the favourites and qualifying in pole position for Saturday night's South Australian Title-deciding feature race, Chadwick settled into the lead at the drop of the green flag, and after remaining there for the first 25 of the scheduled 30 laps, victory looked inevitable for him.
However, it was a late-race red light stoppage and subsequent restart caused by a crash with just five laps remaining that would be his undoing, with light rain also showering the drivers during the stoppage, making the track conditions that much more challenging for the restart.
Having made his way up to fourth from his sixth-place starting position, Daniel Storer took to the top of the track as the lights went green, making quick work of the top-three drivers, one of which included his younger brother Luke Storer.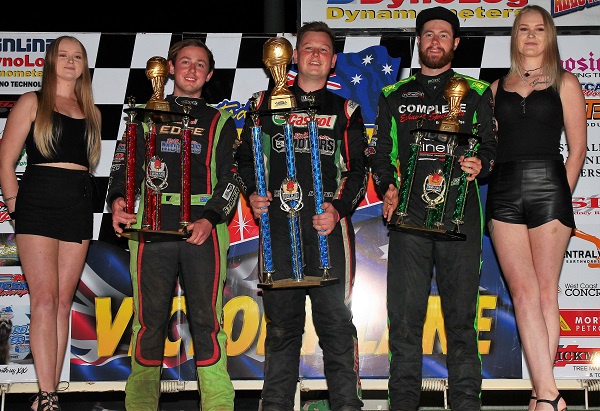 Photo: Savage Shots Photography
Taking control of the lead on lap 26, Daniel Storer could not be reeled in throughout the final four laps, going on to claim his maiden state title victory, while current Victorian Champion Luke Storer managed to take advantage of Daniel's charge, following him through the field and also driving around current and four-time Western Australian Champion Tom Payet and Chadwick to secure the runner-up spot.
Unable to fend off the challenges from the fast-paced Storer brothers, Chadwick was forced to settle for third place, bringing to an end his streak of South Australian Title victories.
Next across the finish line was current Australia # 2 Luke Weel (Vic), who continued what has been a slew of front-running campaigns in title events this season, while Western Australian visitor Tom Payet, who was driving the Mathew Balcombe-owned Vic # 28 machine, rounded out the top five after sitting in second for the majority of the race.
The only New South Wales representative, Jason Bates greeted the chequered flag in sixth place, followed by former South Australian Champion Jarman Dalitz, who was also the highest-place B main transferee aboard the Michael Pitcher-owned car.
Remaining feature-race finishers included Jake Ashworth, Brett Ireland, Joel Heinrich, Chris Halesworth (Vic), Mark Taylor, Kirby Hillyer, Michael Spoljaric, Geoff Cook (Vic) and Carly Walsh (Vic).
It was a difficult two nights for recently-crowned Australian Champion Alex Ross (Vic), who qualified 17th for the feature race, making his way up to ninth place before sustaining damage to his car caused by contact with another car, bringing his campaign to a premature end. He was joined on the infield by Alex Thomson (Vic), Mitchell Broome and Matthew Kennedy.
Getting their weekend's off to the best possible start on Friday night, heat-race wins were shared between Adam Smith (Vic), Ross, Luke Storer, Thomson, Chadwick, Taylor, Bates, Payet (x 2), Peter Doukas (Vic), Ashworth and Ben Harris.
Payet was the best in the 25-lap preliminary feature race, claiming the win ahead of Chadwick and Luke Storer, who places second and third respectively. Daniel Storer finished the race just behind his brother, followed by Bates, Weel, Ashworth, Dalitz, Kennedy, Heinrich, Broome, Thomson, Halesworth, Ireland, Cook, Spoljaric, Hillyer, Taylor, Smith and Harris.
Saturday night's heat races went the way of Cook, Chadwick, Ross and Weel, while Renee Pestka, Jack McCarthy and Jason Bolitho earned the transfer spots in the C main, progressing through to the B main, where it was Ross who came out on top ahead of Dalitz, Walsh and Spoljaric.
The next title event for Wingless Sprints will be the rerun of the New South Wales title on the Saturday night of April 6 at Sydney's Valvoline Raceway.
For more information on the AWSR, visit their website at www.awsr.com.au or LIKE them on Facebook or Follow them on Instagram and Twitter by searching Australian Wingless Sprint Racing.