In what was a nail-biting climax, it was local Luke Redpath who managed to claim a fighting victory from Joel Chadwick in Saturday night's Tasmanian Title at Carrick Speedway, turning the tables on the newly-crowned Australian Champion.
Once again going up again Chadwick, after finishing runner-up to the South Australian-based racer in the Australian Championship a fortnight ago, Redpath was able to deliver a composed race, immediately taking the lead at the drop of the green flag, after started second. Surviving a stoppage mid-race, which thankfully cleared the lapped traffic, Redpath managed to hold on to the lead for the entire 30-lap distance, despite the best efforts of Chadwick, who came home in second place, just 0.119 seconds behind the winner.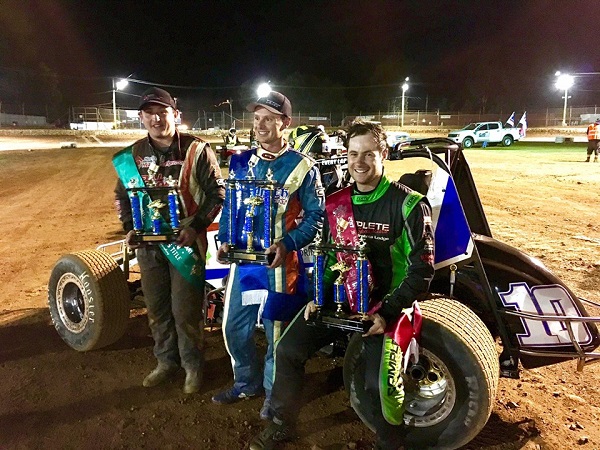 After finishing runner-up in the 2014-15 running of the event, Jeremy Smith once again visited the podium, coming home in third place off the back of a seventh-place finish in the recent Australian Championship. Outgoing Tasmanian Champion and pole-sitter Brad Whitchurch finished just off the podium in fourth, ahead of Victorian Wayne Hurford, who showed plenty of fight to come home in fifth.
Rounding out the remaining finishers were former Tasmanian Champion Brad Herbert, Queenslander Scott Thomsen, Troy Lewis, Jamie Rolls, Tim Herbert, Ashley Walsh, Jake Power, Joe Turnbull and Narelle Blight, who gained a good confidence boost by qualifying into the feature race via the B main.
It was a somewhat crowded infield, with rookie Ryan Harding prematurely retiring from the feature race with just four laps to go, along with Bradley Walkley, Stephen Thomsen, Hadyn McBain, Glen Harris, Josh Padman and Wade Lello.
Starting his night in the best possible fashion, the opening heat race was won by Redpath, with Walkley, Harding, McBain, Herbert and Hurford also going on to claim wins. Smith was in consistent form from the outset, scoring two seconds and a third-place finish, along with Chadwick, who came away with a second and two third-place finishes.
Josh Padman managed to secure his transfer spot into the Tasmanian Title-deciding feature race by virtue of going flag to flag to win the B main, ahead of fellow transferees Ashley Walsh, Narelle Blight, Glen Harris and Joe Turnbull.
To find out more about the Tasmanian Wingless Sprints, visit their website at www.awsr.com.au/tas or LIKE them on Facebook by searching Wingless Sprints Tasmania.