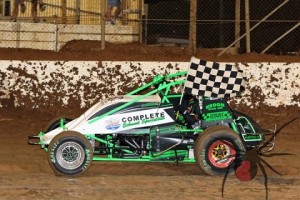 Chadwick Goes Straight To The Top
By Phil Michell Motorsport Media
After sitting out the beginning of the 2017/18 South Australian Wingless Sprint season due to his Cycle Speedway commitments, which netted him a World Championship, current Australian Champion Joel Chadwick made an immediate impact as he won the most recent feature event at the Murray Machining and Sheds Murray Bridge Speedway. After starting from position two in the 20lap finale Chadwick was never headed throughout the race as he won comfortably in his brand-new Triple X Chassis.
"As I had been concentrating on the World Cycle Speedway Championship I hadn't seen much racing at all this season, so I didn't really know what to expect. During the off season we decided to make a change and we had seen and heard good things about the Triple X, so we went out and got one. Tonight, things went well for the first night of the season. The next couple of events will be all about getting laps before the Australian Championship at the Valvoline Raceway in February" added the race winner.
Second place went to Anthony Tapley after he got the better of pole sitter Jack McCarthy late in the race. Unfortunately, due to contact between the two as they battled in turn four with only two laps remaining would see McCarthy fall back through the field and limp across the line in ninth.
William Caruso continued his impressive start to the season to finish third with Jake Ashworth and Aaron Doe rounding out the top five. Sixth place went to Spencer Taylor ahead of Jaime Andrews, who had her best run of the current season, while rookie Ben Harris, Jack McCarthy and Daniel Smith completed the finishers.
With the meeting starting at 4pm the heat races were run the daylight with the opening heat going the way of Greg Cunningham over Tapley and Caruso. Heat two saw the first appearance of Chadwick for the season but after starting towards the back he could only finish fourth as McCarthy won ahead of Ashworth and Doe. The final preliminary heat of the afternoon went the way of Chadwick with Doe and McCarthy completing the top three.
As a result of his heat win and a third placing McCarthy entered the final as the highest qualifier.
The next meeting on the Wingless Sprints SA schedule will be at Mildura's Timmis Speedway on Saturday the 30th of December. Nominations are still open for the event, but the early nominations include Joel Chadwick, Jason Bolitho, Jay Brown and Brad Beasley.