Mildura's Timmis Speedway will this Saturday and Sunday night be the scene for the 2018 South Australian Wingless Sprint Title, and it's going to be current Australian Champion Joel Chadwick who is on the hunt for a hat-trick of wins in the event.
In what has the potential to be one of the hardest fought titles in recent memory, a total of 32 cars have nominated for the event. The nomination list has a good mix of both South Australian and Victorian drivers, all who are eager to win.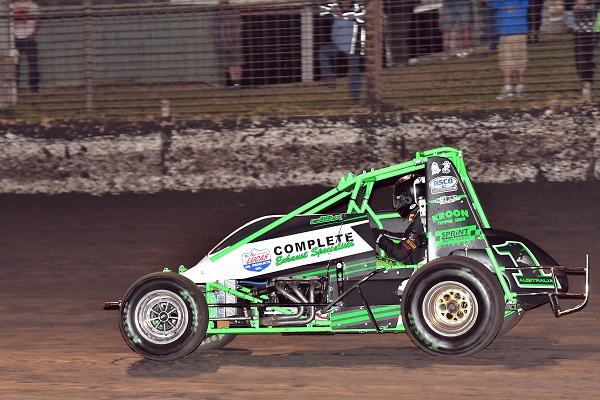 Photo: SR Photos
The hot favourite for the event would have to be current and two-time Australian Champion Joel Chadwick. The Adelaide, SA-based racer is looking for his third South Australian Title win in a row after winning last season's event at Adelaide Motorsport Park. He already has four feature-race wins under his belt to date this season, which includes the Australian Championship, and would love nothing more than add another South Australian Title win to his list.
South Australian Joel Heinrich is also in great form, having recently taken out the feature race at Waikerie's Sunline Speedway and he finished seventh in last season's SA Title. Fellow South Australians in Michael Spoljaric, Matthew Kennedy, Anthony Tapley, Mitchell Broome and Spencer Taylor are all set to be strong contenders. Kennedy finished last season's SA Title in fourth and fifth-place respectively, while Tapley finished back in eighth.
Making a guest appearance in the event is South-Australian-based Sprintcar regular Dan Evans. As a previous Northern Territory Title holder in Wingless Sprint, he'll be a force throughout both nights of competition. Daniel is going to be joined in the field by his younger sister Lucy.
The Storer brothers are no doubt likely to be up the pointy-end of the field over the weekend. Daniel and his younger brother Luke, who are based in Portland, Victoria, have been in good form this season, with Daniel recently wrapping up the hotly-contested Summer Slam Series, after winning two of the three rounds, and finished just off the recent Victorian Title podium in fourth. Another Victorian Todd Hobson is fresh from a feature-race win at Timmis Speedway. He enters this weekend with plenty of momentum and is going to be amongst the front-running contenders.
Completing the South Australian contingent of drivers will be locals Travis and Brad Beasley, Daniel Smith, Brad Evans, Jay Brown, Jordon Bolitho, Melissa and Anthony McMillan and Greg Cunningham.
The remainder of Victorian list of challengers is equally as strong. It features Dayn Bentvelzen, Jaidyn Job, Shaun Lyness, Peter Logue and his son Wayne, Michael Lovell, Tony Moule, Robert Stevenson, Nic Green and Travis Evans.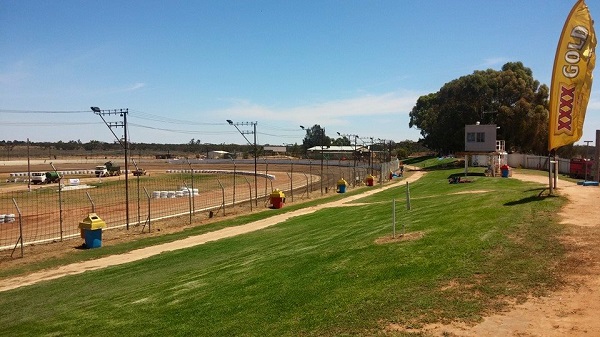 The format for the two nights will see all drivers compete in two heat races on night one, followed by a 20-lap preliminary feature race for the top 20 cars on points. On the second and final night, the drivers will contest a further two heat races, followed by the B main and 30-lap South Australian Title deciding feature race.
2018 SA Wingless Sprint Title Nominations (32):
A1 Joel Chadwick
S2 Jake Ashworth
S4 Travis Beasley
VX4 Jaidyn Job
V9 Dayn Bentvelzen
VX14 Shaun Lyness
S16 Joel Heinrich
V16 Wayne Logue
S19 Michael Spoljaric
S21 Matthew Kennedy
V24 Michael Lovell
V30 Tony Moule
S32 Daniel Smith
S33 Brad Evans
V33 Luke Storer
S35 Mitchell Broome
S37 Anthony McMillan
V43 Daniel Storer
S44 Lucy Evans
S46 Spencer Taylor
S47 Anthony Tapley
S49 Daniel Evans
V50 Robert Stevenson
S51 Jay Brown
S52 Jordon Bolitho
V61 Nic Green
S69 Brad Beasley
S73 Melissa McMillan
VX77 Travis Evans
S82 Greg Cunningham
V83 Todd Hobson
V98 Peter Logue
For further AWSR information, visit their website www.awsr.com.au or LIKE them on Facebook or follow them on Instagram and Twitter by searching Australian Wingless Sprint Racing.