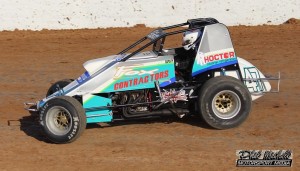 Impressive Wingless Field Set For Sunline
By Phil Michell
The Wingless Sprints will make the first of two appearances at the Sunline Speedway at Waikerie this Saturday night (February 17) at the venue's season 2018 season opener with a strong entry list of 15 competitors set to take to the tight Riverland venue. The line-up includes a majority of the State's leading drivers and on paper it is one of the most talented list of drivers that has ever competed at Waikerie therefore the racing should provide a great spectacle for the big crowd that is expected.
Dual Australian Champion Joel Chadwick will be one of the pre-event favourites, but he will have his work cut out battling the likes of Joel Heinrich, Matthew Kennedy, Jake Ashworth, Michael Spoljaric and William Caruso. The field will also include several Riverland locals including Mildura based racers Jay Brown, Anthony McMillan and rookie Jordon Bolitho, who will be stepping up from the Speedway Karts. The local contingent will also include Renmark's Lucy Evans, Roydn Bailey and rookie Shane Hammerstein.
The meeting this weekend comes hot on the heels of one of the best feature races of the season at the Murray Bridge Speedway last Friday night. On a night that the Wingless Sprints were the main support category to Night 1 of the Australian Speedcar Title many of the race fans and Speedcar teams left the venue talking about the Wingless A-Main.
In what was his first event following his back-to-back win in the Australian Championship Joel Chadwick was upstaged by Anthony Tapley, who put an exciting "slider" on the National Champion to take the win over Chadwick and former Australian Champion Daniel Hartigan. Fourth place went to Joel Henrich with Western Australian Mitchell White, Jake Ashworth, Brad "Kenny" Evans, rookie Daniel Smith and Shane Hammerstein rounding out the finishers.
Earlier Chadwick was undefeated in the heat races as he won both of his preliminaries while Spencer Taylor was victorious in the remaining heat race.
The official nomination list for Saturday 17th February 2018 at the Sunline Speedway, Waikerie: A1 Joel Chadwick, S2 Jake Ashworth, S3 Roydn Bailey, S10 William Caruso, S16 Joel Heinrich, S19 Michael Spoljaric, S21 Matthew Kennedy, S32 Daniel Smith, S33 Brad Evans, S37 Anthony McMillan, S44 Lucy Evans, S51 Jay Brown, S52 Jordon Bolitho (ROF), S79 Shane Hammerstein, S82 Greg Cunningham.