An array of Queensland's best Wingless Sprint drivers are priming themselves to fight it out for the top Queensland Wingless Sprint Title honours this Saturday night at Maryborough Speedway, while a small contingent of NSW-based drivers will be hoping to outperform them.
Headlining the 25-car field for the 2018-19 season running of the event is defending Queensland Champion David Eggins. The Lismore, NSW-based racer has been in solid form this season is looking to cap his season campaign with back-to-back Queensland Title successes.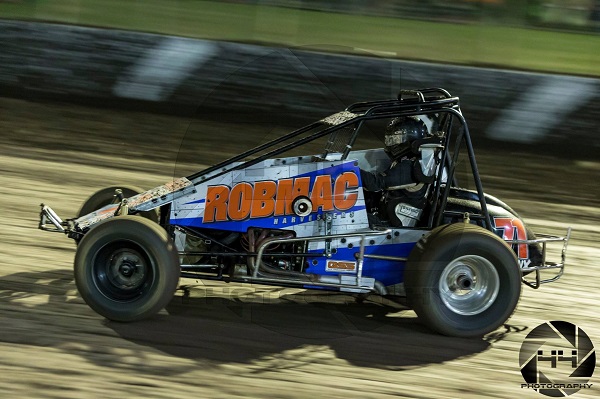 Photo: 44 Photography
After finishing second in last season's Queensland Title, youngster Cody O'Connell has his eyes set on going on one spot better. The teenager is without a win so far this season and after an encouraging run during the recent Australian Championship down in Victoria, he'd love nothing more than to open his season winning account at the Queensland Title. For only the third occasion, O'Connell will be joined in the field by his younger brother Casey, who has recently stepped into the Wingless Sprint class after a successful grounding in Junior Sedans.
One driver that knows how to win Queensland Titles is two-time winner Scott Thomsen. The Maryborough local, who has this season been driving for Tasmanian-based car owner Tim McKinnell, is hungry to hold the Queensland Title honours for the next 12 months and knows the Maryborough Speedway track well.
The likes of Dan Moes, Jack Langley, Jarvis Menzies and Northern NSW-based racer Ben Hull have been able to enjoy feature-race success this season and would love nothing more than to add the Queensland Title to their season winning tally.
Making up the rest of the Queensland Title field David Ellis, Ryan Harris, Steven Gravino, Paul Robinson, Joshua Dreaver, Mason Cattell (NSW), Michael Butcher (NSW), Shane Thompson, Mark Hughes, John Slack (NSW), Tim Harris, Mick Reid (NSW), Liam Atkinson, Andrew Robinson, Matthew Wright (NSW), Jayden O'Toole and Brendan Webber. With top-10 finishers in last season's Queensland Title that was fought out at Kingaroy Speedway, Webber (5th), Paul Robinson (6th), Butcher (8th) and Ryan Harris (10th) are looking to build on those performances.
The Queensland Title format will see drivers contest three rounds of heat races (10 laps), a 15-lap B main and the 30-lap Queensland Title-deciding feature race.
For more information on the AWSR, visit their website at www.awsr.com.au or LIKE them on Facebook or Follow them on Instagram and Twitter by searching Australian Wingless Sprint Racing.