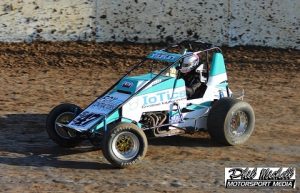 Early Start To SA Wingless Season
By Phil Michell Motorsport Media
A new South Australian Speedway season begins this Saturday night (September 28) at the Murray Machining and Sheds Murray Bridge Speedway with the season opener featuring an impressive early season line-up of Wingless Sprints. In all a total of 17 competitors from two states will contest the first race meeting of the 2019/20 season with a great mix of experience and youth.
The nomination list for the season opener includes several drivers who took part in the pre-season practice earlier in the month including Anthony Tapley, who looked impressive straight out of the box in the Andrew May owned #47, local racer Brett Ireland, Tamika Pitcher, Nicole Southby and Cory Hodgson, who will make a welcomed return to competition behind the wheel of his immaculate #27.
Currently the local contingent also includes "The Prez" Darryl Sloan, Brad Evans, Mitchell Broome, Patrick Monaghan and Latisha Helyar.
The two local rookie Wingless Sprint racers in the field have a vast age gap with teenager Hayden Vickers and veteran Speedcar driver Norm Moore both set to take the green on Saturday night. After cutting his first laps in a race car only a couple of weeks ago Hayden will make his Speedway debut this weekend in his black #15 after stepping up from the dirt kart ranks while Norm Moore will join the V6 Holden powered class after decades in Speedcars and V6 Sprints.
With the season yet to begin across the border several Victorians are looking for an early season run with almost a third of the field travelling from the Garden State. Boyd and Reece Harris from Bendigo, Jeremy Pearson, Marlin Carrigan-Walsh and Cobden teenager Blake Walsh will join the line-up for what should be a great way to kick off the 2019/20 South Australian Wingless Sprint Season.
Following this weekend's event, the South Australian Wingless Sprint season will continue with club events at Murray Bridge on October 5 and 19, before the opening 2 rounds of the State Series will be held on November 2 and 16 at Murray Bridge and the Tolmer Speedway at Bordertown respectively.
Other major events throughout the season include further rounds of the State Series at Murray Bridge, Mildura and Waikerie, the $10,000 to win Wingless Sprint Super Series Final at Murray Bridge in March (6 & 7) and the South Australian Championship at the Borderline Speedway at Mount Gambier on March 20 and 21, 2020.
Release by Phil Michell Motorsport Media for Wingless Sprints SA – pmmedia78@hotmail.com.
Ends Release