Continuing what has been an impressive 2018-19 season so far, Victorian Champion Travis Millar once again found himself in victory lane, after he last Saturday night at Geelong's Avalon Raceway claimed the win in the Salt Electrical Jackpot Invitational.
With drivers being selected to participate in the Salt Electrical Jackpot Invitational, due to having met the criteria of winning a feature race at Avalon Raceway last season or placing inside the top-10 aggregate point score, along with two wildcards in Andy Hibbert and Marcus Green, it was certainly a formidable field to beat.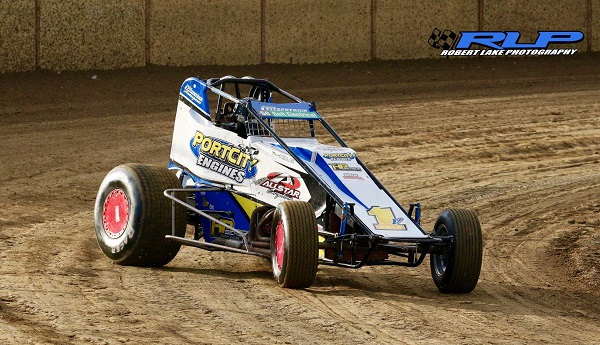 Photo: Robert Lake Photography
Proving that he was up to the task just one week after clinching top honours in the Nyora Nationals at Nyora Raceway aboard his Vic # 1 family-owned car, Millar was equally as competitive in the driver's seat of the Vic # 1 Fitzpatrick Autosports car; however, he didn't have it all his own way.
Last season's Jackpot Invitational winner Dayn Bentvelzen secured the pole position start for the 20-lap feature race by virtue of his shootout win, with Millar lining up alongside him on the outside of the front row. At the drop of the green flag, a great battle between the pair ensued.
While Bentvelzen committed to the bottom line of the race track, Millar moved to the top; a decision that ultimately proved rewarding for him, as he took control of the lead and drove his way to feature-race spoils.
Forced to settle for second place but satisfied with his performance, Bentvelzen was followed home by Mount Gambier, SA-based driver Mitchell Broome, who put in a career-best drive to claim the final podium place, after he had started on the outside of the third row.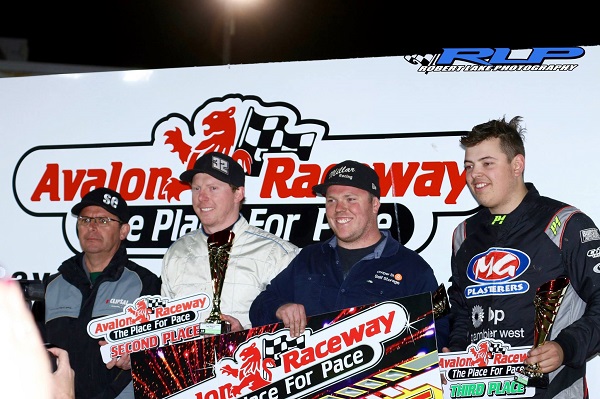 Photo: Robert Lake Photography
Next across the finish line was Tony Moule, who retained his starting position, followed by Matthew Symons, who rounded out the top-five finishers. Narrowly missing out on a top-five finish, Carly Walsh came home in sixth place ahead of Hibbert, who was piloting the Vic # 88 Victory Lane Racegear car owned by Mat and Renae Eastham.
In what was his first appearance for the season, Daniel Storer greeted the chequered flag in eighth place, followed by Luke Schneider and Shaun Lyness. The latter had slipped back to finish in 10th, after he started from position five. The remaining finishers consisted of Wayne Logue, Todd Hobson, Jordan Abbott and Scott Irons.
After scoring a heat-race win earlier in the night, Green was unfortunate to experience a DNF in the feature race, with his fate being shared by Alex Thomson, who had managed to qualify third for the feature race, and Chris Halesworth.
In addition to Green's win, the other heat-race wins went the way of Bentvelzen, Millar and Moule.
On Sunday, drivers from around the state contested a club show at Drouin Speedway and it was Wayne Logue who came out on top, after a dominant showing in the feature race which saw him control the pace out in front from start to finish.
Despite applying constant pressure on the race leader, Brad Foster wasn't quite able to get close enough to make a move, coming away with the runner-up spot. Ex-AMCA Nationals racer and Wingless Sprint rookie Mathew Mills continued to impress, claiming his maiden feature-race podium with the class in third, after also winning his maiden heat race.
Home in fourth place was Thomas McDonald, with Travis Evans doing well to salvage a fifth-place result after sustaining significant damage to his car when he hit the wall during an earlier heat race.
Heat-race wins went the way of Logue (x 2), Mills, McDonald, Foster and Aron Lawrence.
The Victorian Wingless Sprints will be back in action this Saturday night for the opening round of the Indy Race Parts Super Series at Moama's Heartland Raceway.
For more information about the Victorian Wingless Sprints, visit their website at www.awsr.com.au/vic. You can also LIKE them on Facebook by searching Victorian AWSR Wingless Sprintcars.