While the Summer Slam Series is set to stay in the Storer family following its second annual running over the weekend, the champion mantle has this time been transferred to Luke Storer, who managed to deny his older brother Daniel of back-to-back series victories.
Fought out over three action-packed rounds on Friday, Saturday and Sunday night, each of which featured a solid field of drivers, it was Luke Storer's consistency which ultimately earned him top Summer Slam Series honours, ahead of Luke Weel, who finished just 19 points shy of first place, and Alex Ross, whose 596 points saw him place third.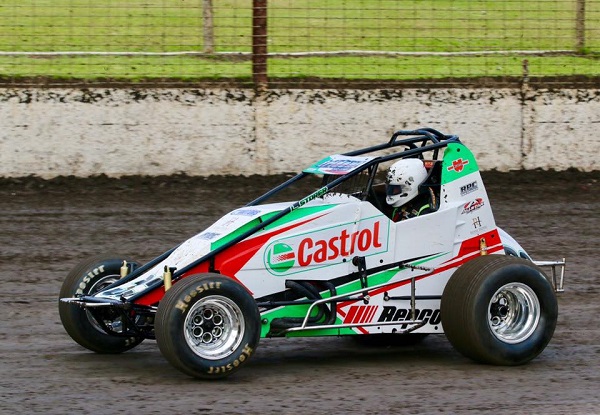 Photo: Robert Lake Photography
Getting his series campaign off to the best possible start, it was Luke Storer who came out on top during the opening Summer Slam Series round, sponsors by Trident Tyre Centre, at Mount Gambier's Borderline Speedway, following a hard-fought victory in the 30-lap feature race.
After starting from the outside of the front row, Luke Storer managed to pip pole-sitter and local Mitchell Broome in the middle stages of the race, later fending off a challenge from Weel, who briefly took over the lead before being relegated back to second place.
While Weel looked likely to clinch the runner-up spot, Ross, who is current Victoria # 2, denied him of that result, launching a last-lap attack on Weel, which he was able to make stick in order to cross the finish line in second place, with Weel being forced to settle for third. Dayn Bentvelzen and Matthew Balcombe completed the top-five finishers. The top 10 was rounded out by Jeremy Beddison, Daniel Storer, Jake Ashworth (SA), Broome and Kirby Hillyer (SA).
The second Summer Slam Series round, sponsored by Noel's Machinery, saw drivers venture to Hamilton's Western Speedway where Jordan Abbott rose to the occasion, quickly taking over the lead on the opening lap of the 30-lap feature race and holding onto it through to the fall of the chequered flag for his maiden feature-race win.
Once again becoming the victim of the eventual race winner, pole-sitter Weel couldn't quite reel Abbott back in after losing out to him off the starting line, but this time he was able to go one better on the podium, coming home in second place ahead of Mick Rigby, who retained his starting position to place third. Rounding out the top five were Luke Storer and Geoff Cook who went on to finish ahead of Ross, Carly Walsh, Todd Hobson, Matthew Symons and Troy Carey (NSW) in 10th.
A bumper field of over 70 drivers were in attendance during the third and final Summer Slam Series round, sponsored by The Tyre Factory Warrnambool, at Warrnambool's Premier Speedway, due to this being the only chance for drivers to gain laps at the venue before next month's Australian Championship.
While there was action aplenty throughout the night's heat races, C main and B main, the feature race certainly didn't go as planned, with the race being declared on the opening lap due to an incident involving Matthew Symons, which required him to be taken to hospital in an ambulance.
Although Symons was thankfully seen walking after exiting his car, a replacement ambulance could not make it to the track in time for the feature race to resume, therefore bringing the night and the Summer Slam Series finale to a premature end.
The lucky winners of the T&D Wholesale random draw prize throughout the three nights of competition were Jack McCarthy, Todd Hobson and current Victorian Champion Travis Millar, while Symons, Brett Milburn and Jake Warren were the recipients of the McDowall Automotive Hard Luck awards.
The Victorian Wingless Sprints would like to thank the three round sponsors – Trident Tyre Centre, Noel's Machinery, and The Tyre Factory Warrnambool – for their support throughout the Summer Slam Series, along with T&D Wholesale and McDowall Automotive.
For more information about the Victorian Wingless Sprints, visit their website at www.awsr.com.au/vic or you can LIKE them on Facebook by searching Victorian AWSR Wingless Sprintcars.
Final Top 10 Summer Slam Series Points:
Luke Storer – 650 points
Luke Weel – 631
Alex Ross – 596
Daniel Storer – 469
Mitchell Broome – 466
Carly Walsh – 465
Jordan Abbott – 461
Mathew Balcombe – 459
Geoff Cook – 458
Jeremy Beddison – 419