The New Year is set to commence in style for the Wingless Sprint class in the state of Victoria, with the upcoming second annual Summer Slam Series that has attracted large fields over all three rounds.
Starting this weekend, the Summer Slam Series will begin at Mount Gambier's Borderline Speedway (SA), followed by the remaining two rounds of the hotly-contested series at Hamilton's Western Speedway (Vic) and Warrnambool's Premier Speedway (Vic) tracks respectively.
Daniel Storer last season ended up taking out the inaugural running of the Summer Slam Series by winning two of the three rounds and finishing second in the other round. The Portland, Vic-based racer has nominated for all three rounds and is looking for nothing less than a successful Summer Slam Series defence.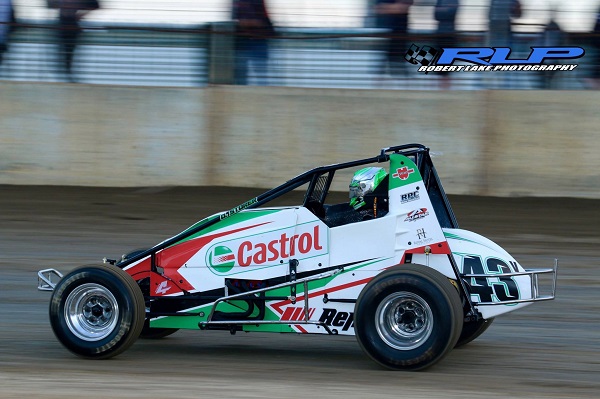 Photo: Robert Lake Photography
One of the form drivers so far this season in Victoria has without a doubt been Dayn Bentvelzen, and he has the goal of continuing his current form by stealing the Summer Slam Series honours away from Storer. In last season's series, Bentvelzen was the only driver to defeat Storer in the three rounds by taking out the second round at Borderline Speedway.
The other series contenders from the state of Victoria are going to be the likes of Luke Weel, current Victoria # 2 Alex Ross, current Victoria # 3 Alex Thomson, Matthew Symons, Daniel's younger brother Luke, Todd Hobson, Carly Walsh and Matthew Balcombe. Despite not contesting every round, current Victorian Champion Travis Millar, veteran Peter Logue, 2013 Australian Champion Brett Milburn, Andy Hibbert, Geoff Cook and Michael Skene are going to be shooting to upset the apple cart with strong performances at the selected rounds they are planning to run.
Apart from the host state, there are a large contingent from interstate aiming to compete in either the entire or selected Summer Slam Series rounds. From South Australia, there is going to be current and two-time Australian Champion Joel Chadwick, Mitchell Broome, Jake Ashworth, Jack McCarthy and Michael Spoljaric, while from NSW there is going to be Troy Carey, along with his teenage daughter Chloe, Jason Bates, Peter Granger, Jason Davis and Andrew Seery. There is also going to be a single entrant from the Northern Territory in Tyson Newcombe.
In terms of competitor numbers, there are 47 drivers nominated for round one, 43 drivers nominated for round two and then a massive 72 drivers nominated for the third and final round. The final round is the last opportunity for drivers to get some track time at Premier Speedway prior to the running of the 2019 Australian Championship in late February, which is certainly reflected in the large nomination count.
As an incentive for competitors to compete in all three rounds of the Summer Slam Series, there will be a random draw conducted during the driver's briefing at the third and final round. The draw will be a $200 parts supplier voucher of the driver's choice. To be eligible, you must have raced at all three rounds. There is also going to be a random draw by the highest point scorer at each round, prior to the feature race. The starting position number drawn wins a $100 T&D Wholesale voucher.
2018-19 Season Summer Slam Series Calendar:
Round 1
Friday Night (January 4)
Borderline Speedway (Mount Gambier, SA)
Round 2
Saturday Night (January 5)
Western Speedway (Hamilton, Vic)
Round 3 (Finale)
Sunday Night (January 6)
Premier Speedway (Warrnambool, Vic)
For more information about the Victorian Wingless Sprints, visit their website at www.awsr.com.au/vic or you can LIKE them on Facebook by searching Victorian AWSR Wingless Sprintcars.