An extremely busy Christmas-New Year period saw the Victorian Wingless Sprints end their 2017 on a high, contesting a total of five race meetings from Boxing Night onwards, four of them run consecutively.
Getting underway with a Gippsland doubleheader which commenced at Bairnsdale Speedway on Boxing Night, it was veteran Tony Moule who was announced the winner in what was a declared feature race ahead of another veteran racer Peter Logue and his son Wayne Logue in second and third place, while Peter Logue managed to go one better the following night at Rosedale Speedway, beating out Moule and Wayne Logue to claim the victory.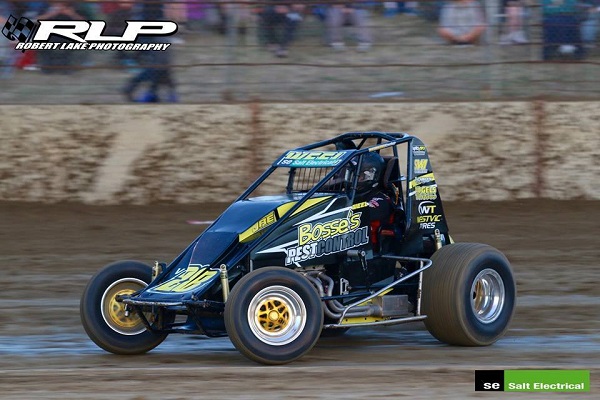 Photo: Robert Lake Photography
Travelling over four hours west to Laang Speedway on the Thursday night of December 28, drivers battled it out in the annual Crossfire Challenge with Luke Weel greeting the chequered flag in first place in the 20-lap feature race. Todd Hobson, who had to step into in his sister Ebony's Vic # 83 car after being crashed out while fighting for the lead on Boxing Night in his own car, clinched the runner-up spot, while a consistent Wayne Logue once again came home in third, completing a trio of third-place finishes in as many shows. Bhoe Paterson and Geoff Cook rounded out the top five.
Earlier in the night, the heat-race wins were shared between Hobson, Weel (x 2), Ashley Cook, Steven Hateley and Wayne Logue. Michael McDonald was victorious in the B main, scoring a feature-race transfer spot, along with Alex Ross, Thomas McDonald and Michael Lovell.
Going back to back in the Western Shootout at Hamilton's Western Speedway the following night, Weel once again claimed the feature-race victory after leading each of the 25 laps, this time ahead of Mitchell Broome and rookie Alex Ross in second and third place respectively. Completing the top five were Todd Hobson and Mathew Balcombe.
After scoring a pair of heat-race wins earlier in the night, current Victorian Glenn Watts had a feature race to forget, riding out a massive wreck in the early stages while battling with Weel for the lead and bringing his night to a crashing halt. Watts was forced to spend the night in hospital for observation but wasn't seriously injured.
Aside from Watts, other heat-race winners included Jeremy Beddison, Hateley, Robert Whiteside, Weel (x 2) and Wayne Logue. During the heat-race action, Brittany Kuypers rode out a wreck that, like Watts, resulted in a night in the hospital for observation and was given the all clear the following day.
Having certainly ended 2017 on a busy yet solid note, the Victorian Wingless Sprints will be ringing in the New Year in similar fashion, with a club show at Laang Speedway this Thursday night (January 4) being the prelude to the subsequent four-round Summer Slam series which will commence the following night at Hamilton's Western Speedway.

The second Summer Slam round will see drivers travel to Mount Gambier's Borderline Speedway in South Australia this Saturday night, before contesting round three at Warrnambool's Premier Speedway on the Sunday night that has attracted a massive 67 nominations, with the series concluding at Bairnsdale Speedway on the Saturday night of January 13. The final two rounds of the Summer Slam series will also incorporate rounds three and four of the AutObarn Super Series.
For more information about the Victorian Wingless Sprints, visit their website at www.awsr.com.au/vic. You can also LIKE them on Facebook by searching Victorian AWSR Wingless Sprintcars or FOLLOW them on Twitter by searching @VicWinglessSpri.