It was a memorable weekend for Geelong's Michael Skene, achieving his maiden feature-race win in Sunday night's Victorian Wingless Sprints Club show at Rushworth Speedway.
Currently contesting his second season in the class, with a background in Junior Sedans, the 20-year-old racer showed his pace from the outset, coming away with a win and a second-place finish in his heat races and lining up fourth for the 15-lap feature race.
Immediately moving up to third at the drop of the green flag, Skene was then elevated to second place when race leader Peter Thacker experienced a large rollover, bringing his night to a premature end, while thankfully emerging unharmed. Managing to maintain his momentum, Skene quickly overthrew Luke Schneider for the lead on lap four, going on to take a comfortable win, his first since joining Wingless Sprints.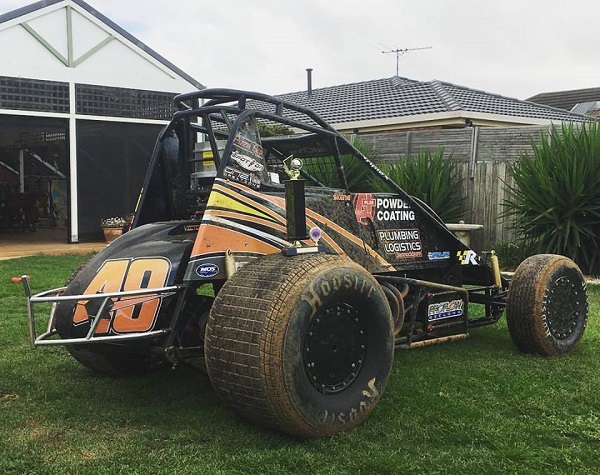 NSW-based visitor Andrew Seery was next across the finish line, having pipped Schneider in the middle stages of the feature race, leaving the latter to settle for third, with final finisher Matthew Thacker coming home in fourth.
Joining Peter Thacker on the infield was Leon Hennessy, who didn't get the result he was looking for, after making a return to racing following a five-year hiatus. Each suffering a disappointing DNF during their heat races due to a range of mechanical issues, both Jaimie-Lee Smith and Jason Beattie were unable to start the feature race.
In the earlier heat-race action, it was Skene who was in the best form, racking up a win and a second-place finish, with Schneider and Seery also scoring a victory and a third-place finish each, while Peter Thacker was also in consistent form, coming away with two second-place finishes.
For their next appearance, the Victorian Wingless Sprints will head to Geelong's Avalon Raceway where they will undergo the ultimate test of endurance in this Saturday night's 50 Lapper, which will double as the sixth Victorian Super Series round.
For more information about the Victorian Wingless Sprints, visit their website at www.awsr.com.au/vic. You can also LIKE them on Facebook by searching Victorian AWSR Wingless Sprintcars.