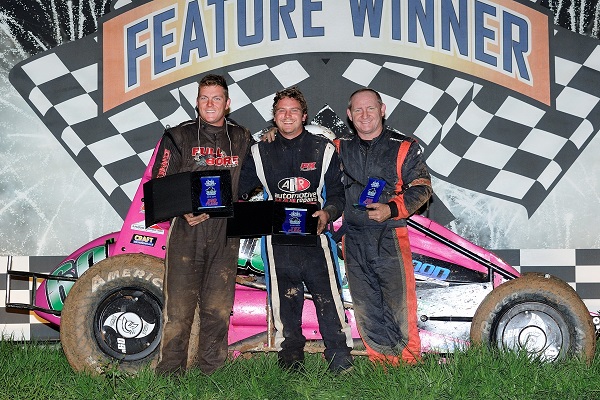 Daniel Flood claimed a non-stop Wingless main event win on Saturday night at Valvoline Raceway. On a track that was a test of driver and machine, due to the rough surface, all drivers did remarkably well to ensure the race ran caution free.
Finishing in second was Marshall Blyton and making it a Blyton 2-3 was his Dad, veteran Mark Blyton.
The race started with Sean Dicker and Marshall Blyton leading the field to the green. The rough track conditions saw the demise of some of the front runners, however Marshall Blyton led the opening ten circuits. Flood, who started from position five then took the lead and set about opening up an advantage, although Blyton never let him get away.
There were some hair raising moments through the field, however everyone stayed straight and put on a great spectacle. At the fall of the chequered flag, Daniel Flood won by just under half a second.
This now closes up the points for the Club Championship further with just eighteen points separating Championship leader Jason Bates and second placed Daniel Flood.
With only a handful of events left, it promises to come down to the wire at the season ending event on the June long weekend at Valvoline Raceway.
Following the top three home were Dean Thomas, Jason Bates, Daniel Sayre, Harley Smee, Troy Carey, Jamie Dicker, Kristopher Johnson, Sam Louttit, John McRae, Troy Baker, Nick Tatnell, Parker Eveleigh, Zac Pacchiarotta and Wayne Arnold was the final on-track finisher.
Non finishers were Michael Sammut, Cody Boulding, Jamison Blyton, Mitchell O'Brien, Leighton O'Brien, Sean Dicker and Graham Flood.
Earlier in the night, heat race action was quick and sometimes brutal. Heat race wins went to Harley Smee (x2 wins), Dean Thomas, Troy Carey, Jason Bates, Daniel Flood, Mark Blyton and Sam Louttit.
The only major incident on the night involved Jarrad Rust when he got upside down in a big way. Thankfully he emerged A-OK.
A special mention must go to Parker Eveleigh. Parker qualified for his first A-Main. Hopefully there are many more to come.
The next event for the NSW Wingless Sprints will be this Saturday, March 18 at Nowra Speedway.