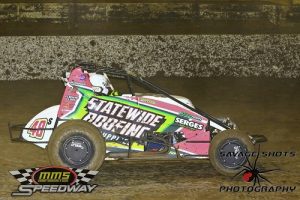 Heinrich Wins Ahead Of National Championship
By Phil Michell Motorsport Media
With the 2022 Australian Wingless Sprint Championship fast approaching the local "Wingless Warriors" were again out in force with 36 local drivers taking the final opportunity to gain some valuable track time. As it has been all season the racing was of a high quality and after the 20 lap A-Main a new driver joined the list of winners at the Murray Machining and Sheds Murray Bridge Speedway as Renmark's Rhys Heinrich threw his hat into the ring as a serious Title contender in just over a week's time.
"All I can say its about time we won a race here. We had plenty of second placings over the past couple of years. This win comes at a good time with the big races coming up. The car is running really good, and the confidence is up" added Rhys as he packed up his white and pink #48.
With such a large nomination list the field was split into four heats per round with 8 heats in total for the night. Winners included Tyson Martin (2), Jack McCarthy, Ross Miller, Ryan Alexander, Rhys Heinrich, Hayden Vickers and Joel Chadwick.
With two heat wins it was South Australian Champion Martin who started on pole for the final with Rhys Heinrich alongside. In addition to Heinrich's heat win in the second round his front row start was secured due to a barnstorming run in the opening heat when he stormed to a runner-up finish after starting on the back row.
After jumping into the lead in the opening turns it appeared that Martin would have the field covered but after leading the opening 18 laps Martin had the lead pinched by Heinrich after he made a bold move coming off turn four. Once in the lead Heinrich went on to win his first Wingless A-Main at Murray Bridge in dramatic fashion ahead of Martin, McCarthy, Joel Heinrich, Joel Chadwick, Rylan Furler, Jacob Childs, Ryan Alexander, who was debuting a brand-new Triple X Chassis that the team completed the night before, Hayden Vickers and Anthony Tapley. William Caruso, Keke Falland, Bronson Mauro, Cory Hodgson, Sharni Pitcher, Nicole Southby and Darryl Knuckey completed the finishers.
The B-Main saw a stacked field take to track with the top four transferring to the back of the main event. Keke Falland led the entire distance with Sharni Pitcher, Nicole Southby and Cory Hodgson, who piped James Rodda on the line, tagging onto the back of the final.
After an impressive drive in his opening heat Ross Miller's night came to end in heat 6 after Chris James spun in turn two leaving Miller with nowhere to go, and after clipping the left front of the spun #12 he rolled heavily.
Ends Release…
Release By Phil Michell Motorsport Media
For Wingless Sprints SA