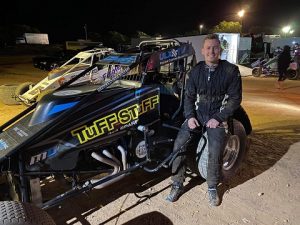 Ashworth Holds On To Win SA State Series
By Phil Michell Motorsport Media
After five rounds of the South Australian State Wingless Sprint Series held across four different venues it came down to just 3 points to decide the Series Champion. After going into the final round at the Sunline Speedway at Waikerie last Saturday night with a 10-point lead Jake Ashworth was able to hang onto the lead courtesy of a fourth placed finish in the 25- lap A-Main.
Despite crossing the line ahead of Ashworth in the final, Keke Falland's third placed finish wasn't enough to reel in Ashworth for the overall championship. Third place in the series went to Anthony Tapley with Mildura's Anthony McMillan and rookie Hayden Vickers completing the top five in what had been a hard-fought series that saw a total of 42 drivers from across South Australia and Victoria contest at least 1 round.
Going into the final round, one driver who didn't really care for the overall points was Jack McCarthy having missed a round earlier in the season. The only thing he cared about was the feature event win and having lost the previous round on the final lap, he made up for the disappointment leading every lap of the decider.
After the three qualifying heats McCarthy topped the score chart with Falland, Joel Heinrich and Ashworth filling out the first four positions in the 12-car field. With the track being extremely one laned for the final it was basically a race to turn 1 with McCarthy making the best start. With the bottom lane being the preferred position Heinrich was also able to get by Falland from the second row with the positions remaining the same for the entire duration.
Therefore, McCarthy defeated Heinrich, who was beaten for the first time in the series having won both of his previous starts, Falland, Ashworth and Tapley. Jordon Bolitho had a solid result as he claimed sixth ahead of Hayden Vickers, Anthony McMillan, Renee Pestka, Nicole Southby, Melissa McMillan and Mick Barker, who fell to the back after a mid-race spin.
The three heat races went the way Falland, Ashworth and Bolitho. Heat three saw the demise of Mark Taylor who rolled after hitting the turn two wall.
Final Series standings – Top 10 of 42: 1. S2 Jake Ashworth 509, 2. S3 Keke Falland506, 3. S47 Anthony Tapley 477 4. Anthony McMillan 408, 5. S15 Hayden Vickers 393, 6. S23 Jack McCarthy 386 7. Renee Pestka 364. 8. S9 Ben Harris 350, 9. Jordon Bolitho 350 10. S16 Joel Heinrich 344.
The next event on the South Australian Wingless Sprint schedule will be round 3 of the Wingless Sprint Super Series at the Murray Machining and Sheds Murray Bridge Speedway on March 6 and 7, 2020. The feature will be run over 60 laps with the biggest pay day in Wingless Sprint history with $10,000 going to the event winner. Nominations close on Sunday March 1, 2020 at 8pm.
Release By Phil Michell Motorsport Media for Wingless Sprints of SA
Pmmedia78@hotmail.com
Ends Release