Last night's 2018 Australian Wingless Sprint Championship opener at Sydney's Valvoline Raceway has seen outsider Andy Hibbert complete the night at the top of the overall point standings.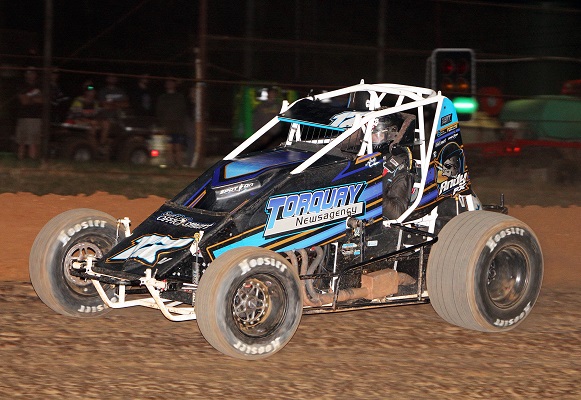 Andy Hibbert (Vic)
Photo: Crashy's Photos
The Geelong, Victoria-based racer, who has three Australian Championship top-five finishes to his name and is also a previous Wingless Sprint feature-race winner at the Valvoline Raceway track, headed into weekend not really considered as one of the real contenders and that was reflected when his group went for a lowly $150 at the previous night's Calcutta event. However, Hibbert tossed aside the form guide and as a result sits at the top of the point standings heading into tonight's finale.
Hibbert performed the best in his three heat races, with a pair of wins and a third, and started the preliminary feature race from pole position. For most of the 20-lap distance, he dictated the pace up until half a dozen laps from the finish, when local Jeff Thomas took control of the lead. Thomas' lead was short lived, when defending Australian Champion Joel Chadwick came from the clouds, or should we call it position 8, to rail it around the high and move from third to the lead.
Once out in front, Chadwick, from Adelaide in South Australia, was never headed in the closing laps and went on to score an impressive win ahead of Jeff Thomas and Hibbert in second and third place respectively.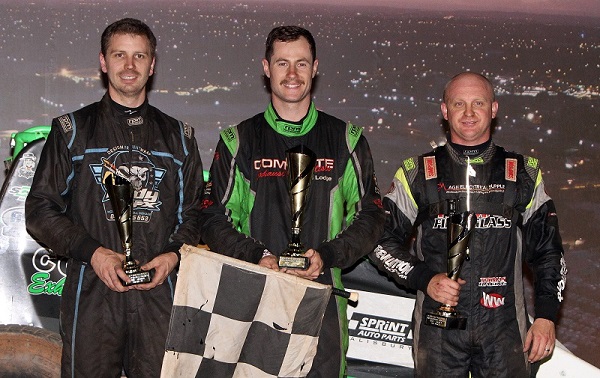 L-R: Andy Hibbert (3rd – Vic), Joel Chadwick (1st – SA) and Jeff Thomas (2nd – NSW)
Photo: Crashy's Photos
Outside the podium finishes in fourth was current Northern Territory Champion and a hard charging Troy Carey (NSW) from a position 14 start, current NSW Champion Dean Thomas (NSW), another hard charger in Daniel Storer (Vic) from position 15, Mark Blyton (NSW), current Queensland Champion Daniel Flood (NSW), Jason Bates (NSW) and Ashleigh Jack (NSW) in 10th.
In a 24-car preliminary feature-race line-up, every driver drove very well and greeted the chequered flag. The remaining finishers were current Tasmanian Champion Luke Redpath (Tas) in 11th ahead of Anthony Tapley (SA), Travis Millar (Vic), two-time Australian Champion Daniel Hartigan (WA), Geoff Piekar (NSW), current Victorian Champion Glenn Watts (Vic), Michael McDonald (Vic), Todd Hobson (Vic), Luke Sayre (NSW), Glenn Wright (Qld), Kyle Mock (NSW), Clint McLaren (Vic), an unlucky Matthew Iwanow (WA) and the final finisher Peter Granger (NSW).
Hartigan, who had started from 10, had a tough run throughout the preliminary feature race and struggled to move forward and finished back in 14th. Fellow Western Australian and a first-time Valvoline Raceway visitor was in sensational form during his heat races and a result qualified from the outside of the front row for the preliminary feature race. From outset in the preliminary feature race, Iwanow was hampered by a mechanical issue and consequently dropped well down the field. Another driver to hit hard times in the preliminary feature race was Kyle Mock (NSW). After destroying his regular car in a crash at the NSW Title a fortnight earlier, the 17-year-old racer debuted a new car for this weekend's Australian Championship and showed impressive speed to qualify in position 6. In the race, he went backwards and finished in a disappointing 21st.
Earlier in the night the three rounds of heat races resulted in the victories shared between Hibbert (x 2), Dean Thomas (x 2), Millar, Mock, David Eggins (NSW), Iwanow, Luke Weel (Vic), Brittany Kuypers (Vic), Jeff Thomas, Blyton, Tapley, Granger, McDonald, Watts, Jack, McLaren, Hobson, Redpath, Chadwick, Sean Dicker (NSW), Carly Walsh (Vic) and Hartigan.
One of the highlights from the heat races was the fact that over the three rounds, there were three different female winners: Kuypers, Jack and Walsh.
In terms of hard-luck stories, there were a few of them. There were crashes from Mitchell O'Brien (NSW), Michael Gray (NSW), Graham Flood (NSW) and the most serious was that of youngster Zac Pacchiarotta (NSW). The latter clashed with Graham Flood going down the main straight and it resulted in a big crash. Pacchiarotta was attended to quickly by the crash crew and was then transported by ambulance to the nearby Westmead Hospital. Pacchiarotta spent the night in hospital for observation but has now been released.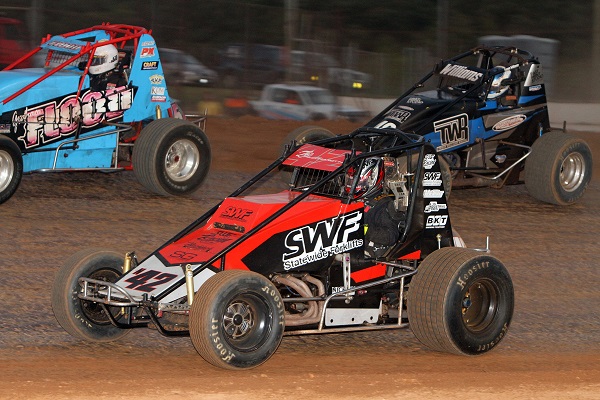 Zac Pacchiarotta (NSW) battles with Graham Flood (NSW) and Tyson Williams (NSW).
Photo: Crashy's Photos
Not involved in crashes but had some misfortune during the heat races were the likes of Weel, Harley Smee (NSW), NSW Title surprise packet Jason Martin (NSW), Robert Mazzer (NSW) and Brian Briton (NSW). The latter two were sidelined due to engine failure in their opening heat races that has put them out for the rest of the weekend.
Top 10 Australian Championship Point Standings (after Night 1)
1: Andy Hibbert (Vic) -106 points
2: Jeff Thomas (NSW) – 102
3: Matthew Iwanow (WA) – 100
4: Mark Blyton (NSW) – 100
5: Dean Thomas (NSW) – 99.5
6: Joel Chadwick (SA) – 99
7: Daniel Flood (NSW) – 96.5
8: Luke Redpath (Tas) – 95
9: Jason Bates (NSW) – 94.5
10: Kyle Mock (NSW) – 94.5
Event Information: Tonight's second and final night is going to consist of a fourth and final round of heat races, E main, D main, C main, B main and the 35-lap Australian Championship-deciding feature race.
Get Social: For more information on the AWSR, visit their website at www.awsr.com.au or LIKE them on Facebook or Follow them on Instagram and Twitter by searching Australian Wingless Sprint Racing.