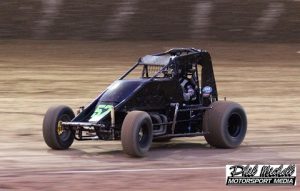 Bolitho Clean Sweeps Mildura
By Phil Michell Motorsport Media
The latest Wingless Sprint SA race meeting saw the V6 powered class travel to the Timmis Speedway at Mildura to be the main support category at the 3rd Annual Col Beasley Sprintcar Classic. The event was a special occasion for the class with both Brad and Travis Beasley competing, but it was another local Mildura racer, Jason Bolitho who celebrated with the feature victory winning an entertaining finale in front of a healthy opening night crowd.
The night didn't get off to a great start for Travis Beasley who missed the opening heat of the night with a misfire, but the issue was sorted out in time for heat two.
It was rather fitting that Brad Beasley started the opening heat on the pole alongside Jason Bolitho, but Beasley couldn't capitalise on his starting position as Bolitho won the 10-lap heat convincingly with Travis Beasley, Shane Hammerstein, regular Speedcar racer Normie Moore and Brittany Kuypers completing the top five.
Heat two saw a mixed result for the Bolitho's as Jason continued his winning ways but the race was cut short after his Son Jordon crashed heavily in turn 1. After a huge bicycle as he entered the turn Jordon did a great job to bring the car back onto four wheels, but he simply ran out of room as he made contact with the wall and tipped the car over, ending his night.
Hammerstein was credited with second ahead of Brad Beasley, Anthony McMillan and Moore.
The field for the final was reduced to just 8 cars with Bolitho leading all the way from the front but the battle for the minor placings was great to watch as Brad Beasley got the better of Travis while Norm Moore and Shane Hammerstein had a great battle for fourth, with Moore edging ahead. Brittany Kuypers and Anthony McMillan were the only other finishers.
This weekend will see the third race of the season at the Murray Machining and Sheds Murray Bridge Speedway, which is also the first round of a 5 round SA State Series.  With an entry list of 27 drivers, which includes the opening appearance of the season by Australian Champion Joel Chadwick. Joining him in one of the best club fields ever assembled will be two-time feature winner Matthew Kennedy, recently crowned Aussie Racing Car Champion Joel Heinrich, Anthony Tapley, Jake Ashworth, Jack McCarthy, Michael Spoljaric and Jason Bolitho, ensuring that the racing this weekend will be extremely exciting.