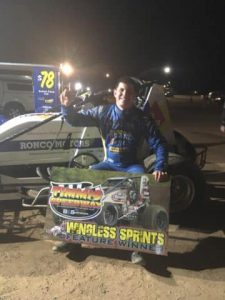 Falland Wins and Jumps To Second
By Phil Michell Motorsport Media
Mildura's Timmis Speedway hosted the penultimate round of the 2019/20 SA State Wingless Series with a field of 19 competitors heading to the Sunraysia venue last Saturday night (February 1). Going into the round at Mildura Jack McCarthy went into the round as a clear favourite having won the previous A-Main at the venue but he came up 1 lap short of repeating the feat as he was passed in lapped traffic by Loxton based racer Keke Falland.
"I followed Jack for the whole race and a gap finally opened on the last lap and I had to take it" added Keke after his stunning win in the Roydn Bailey owned #3.
With the result Falland has jumped into second overall on the points chart only 10 points behind series leader Jake Ashworth.
McCarthy would hold onto second, which is his best result of the Series so far, with Ben Harris also recording his Series best finish with third. Anthony Tapley continued his consistent season finishing fourth with Travis Beasley the best of the Mildura locals in fifth. Jason and Jordon Bolitho, Series leader Jake Ashworth, Melissa and Anthony McMillan, Brad Beasley, Brad Evans, Darryl Sloan, Nicole Southby and Renee Pestka completed the finishers.
One of the drivers who suffered the most in the overall points chase was rookie Hayden Vickers who failed to start the A-Main falling from fourth to sixth in the championship. On the flip side along with Falland a couple of the big movers in the points were Ben Harris, who is now fourth while Mildura based driver Anthony McMillan now finds himself fifth after entering the night in seventh.
Earlier in the night four heat races were conducted with the opening heat going the way of Ben Harris before local Mildura racer Melissa McMillan greeted the chequered flag first in heat 2. The second round of heats saw both Falland and McCarthy record a heat win.
The final round of the series will take place at the season opener at the Sunline Speedway at Waikerie on Saturday February 15, 2020.
Top 10 of 42 in points after 4 Rounds: 1. S2 Jake Ashworth 408, 2. S3 Keke Falland 398, 3. S47 Anthony Tapley 385 4. S9 Ben Harris 350, 5. Anthony McMillan 322, 6. S15 Hayden Vickers 303, 7. Renee Pestka 278. 8. Jack McCarthy 268, 9. S27 Cory Hodgson 267, 10. S77 Mick Barker 266.