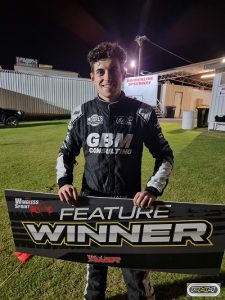 From Zero To State Champion Hero
By Phil Michell Motorsport Media
Prior to the beginning of the 2020/21 season Tyson Martin sent Car Owners Normie and Naomi Moore a resume outlining why he should drive their Wingless Sprint and less than 18 months later he is the 2021/22 South Australian Wingless Sprint Champion. After claiming two heat wins, and placing fifth in his final heat, Martin started the Trident Tyre Centre supported final from the pole and he went on to dominate the 35-lap final at the Borderline Speedway in Mount Gambier.
"This feels so surreal, it really hasn't sunk in yet. We didn't come into this weekend with great expectations as it was such a highly competitive field, even without the Victorians, so I was just happy to make the A-Main. I can't thank Normie and Naomi enough, 18 months ago they didn't know me from a bar of soap. I sent them an A4 piece of paper outlining who I was and what I had done, and they offered me this opportunity. They both put in 100 percent behind the scenes, and I honestly can't thank them enough. They are the reason I'm here" added Tyson following his win.
Second place went to the defending Champion Joel Chadwick, who struggled in his opening two heats before recording a win in the final round. After starting on the second row, Chadwick briefly got to the lead after a handful of laps only to have Martin reclaim the lead as quickly as he lost it.
"You can't win them all as they say. That's six years in a row we have been on the podium so it's another solid result but that team, Tyson and his guys did a great job all night so congratulations to them" commented Chadwick post-race.
After going into the event on the back of four straight A-Main victories Jack McCarthy had to settle for third after clawing his way onto the podium after starting from the fourth row.
Portland's Daniel Storer was the best of the small Victorian contingent in fourth while local Mitchell Broome, who started from position two, rounded out the top five. Luke Storer, Rhys Heinrich, Rylan Furler, Todd Hobson and Ryan Alexander completed the top 10. Todd Hobson received the Hard Charger Award after starting from position 18.
The A-Main was unfortunately marred by a nasty crash in turn four that saw a lengthy delay after Jake Ashworth rolled triggering a multi car accident. Along with Ashworth, William Caruso and former Champion Rory Button were unable to continue.
Once the race got back underway the remaining 31 laps ran non-stop with Martin showing great poise to hold out the vastly experienced Chadwick for only his second A-Main victory and the biggest win of his short Speedway career.
In all a total of 37 cars signed in for action at the Borderline Speedway with the format including 12 heats, two B-Main events and the 35-lap final.
Throughout the heats the racing was of a high quality, but it also included several big crashes with Norm Moore and Michael Spoljaric both rolling hard. The crash involving Spoljaric involved several cars including Harley Alexander, who destroyed his 1-week-old chassis after triggering the accident.
Heat winners on the night included Martin (2), Daniel Storer, Todd Hobson, Brett Ireland, Luke Storer, Caleb Evans, Jack McCarthy, William Caruso, Joel Chadwick, Rhys Heinrich and Nate Trewin. For Evans and Trewin it was their first ever heat wins.
Anthony Tapley and Jenna Kervers transferred from B-Main 1 while Todd Hobson and Rory Button made their way through via B-Main 2.
Ends Release…
Release by Phil Michell Motorsport Media
For Wingless Sprints of SA