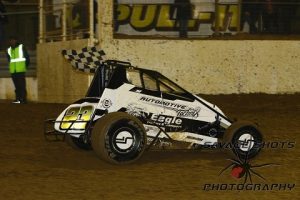 McCarthy Wanting Whyalla Win This Weekend
By Phil Michell Motorsport Media
The South Australian Wingless Sprint season is beginning to gain momentum with the opening show at Murray Bridge being staged just over a week ago with another two events scheduled in the coming weeks. This weekend (October 31) will see a field of eight drivers, including last start winner Jack McCarthy, travel west to the steel city of Whyalla in support of the Sprintcars at the Whyalla Speedway 2020/21 season opener.
Joining Jack McCarthy will be seasoned drivers Hayden Vickers, Normie Moore, Mick Barker and Nicole Southby. The field will be completed by rookie competitors Jacob Childs, Tyson Martin, and Ben Cartwright. Both Martin and Cartwright are coming off impressive top 10 results in their debuts at Murray Bridge.
The unique season opening event at the Murray Machining and Sheds Murray Bridge Speedway on October 17, was proudly presented by Dirt-X SA Racing Tyres, saw 18 drivers front for action with four heats and a 20-lap finale on the program.
After winning his opening heat and recording a runner-up finish in his second heat Kirby Hillyer just edged out Jack McCarthy (1st – 3rd) for the pole position of the main event. Due to his win in the final heat Anthony Tapley was next in line with Brad Evans, Mick Barker, Mitch Broome, Darryl Sloan, and Tyson Martin completing the first four rows.
As the field came out of turn four to greet the green flag it would be the last they saw of McCarthy as he led the field into turn 1 and was never headed dominating the non-stop journey winning by over five seconds and in the process being the only driver to record a sub 14 second lap of the 360 metre bullring. Hillyer would hang on for a solid second place with Anthony Tapley completing the podium just over a second further back.
Mitch Broome was the final driver to complete all 20 laps with Darryl Sloan recording an impressive fifth place with Ben Cartwright the best of the rookies in sixth. Tyson Martin, Mick Barker, Brent Fox and Nicole Southby completed the top 10. The field was rounded out by young debutantes Jacob Childs, Sharni Pitcher and Caleb Evans.
Following the Club Show at Whyalla on October 31 the Wingless Sprints will return to Murray Bridge on November 7, 2020.
Current Nominations (8 Cars): Whyalla Speedway, Whyalla – Saturday 31st October 2020: S11 Tyson Martin, S12 Normie Moore, S15 Hayden Vickers, S23 Jack McCarthy, S25 Ben Cartwright, S53 Nicole Southby, S67 Jacob Childs, S77 Mick Barker.
Release for Wingless Sprints of SA by Phil Michell Motorsport Media.