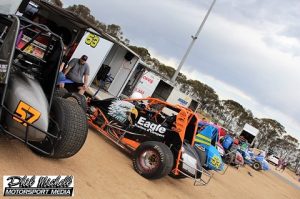 Murray Bridge Hosts Wingless Series Round 1
By Phil Michell Motorsport Media
This Saturday night will see the opening round of the South Australian State Series conducted at the Murray Machining and Sheds Speedway at Murray Bridge with a quality line-up of 31 drivers from across the State and Victoria set to fight it out. Already this season the Wingless Sprints have produced some first-class action during the Club Shows and with the first major event win up for grabs this weekend the competition is sure to step up another gear.
This Saturday night will be first of 2 rounds at Murray Bridge with further rounds to be conducted at the Tolmer Speedway at Bordertown, the Timmis Speedway at Mildura and the Sunline Speedway at Waikerie.
After winning the most recent feature event in fine style Brett Ireland will enter the series in great form and he will be hoping to be become the first driver to win two main events. The only other 2019/20 season main event winner in the field is Joel Heinrich, who has been extremely busy over the past couple weeks racing his Aussie Racing Car on the Gold Coast along with competing in his 410ci Sprintcar at the previous Murray Bridge meeting.
In addition to the two previous winners the nomination list includes several potential race victors including Anthony Tapley, Corey Hodgson and Jake Ashworth, all of whom have recorded at least a podium result already in the new season.
After missing the early part of the season Matthew Kennedy is making a welcomed return to the class along with regular Sprintcar drivers Keke Falland and Cody Atkins. Both Falland and Atkins were standouts in the Wingless Sprints prior to moving into Sprintcars.
Other drivers to keep an eye on throughout the night will be Michael Ross, Normie Moore, Darryl Sloan, Brad Evans, Jack McCarthy, Mick Barker and impressive rookie Hayden Vickers.
The Victorian contingent is travelling from far and wide including drivers from Mildura, Bendigo and Hamilton. Mildura will be represented by Jason and Jordon Bolitho and Anthony and Melissa McMillian. The latter has been in pretty good form this season having stepped up her performance dramatically and can now be found racing towards to the front.
Jeremy Pearson and Reece Harris will be making their second appearance for the season at Murray Bridge while Aaron Kennett was a late nomination.
With the numbers exceeding 30 for the first time this season a Last Chance Qualifier will be required prior to the 25 Lap A-Main.
Wingless Sprints Nominations (31) – State Series Round 1 – S2 Jake Ashworth, S3 Keke Falland, S6 Michael Ross, S7 Norm Moore, S8 Darryl Sloan, S9 Ben Harris, S11 Normie Moore, S15 Hayden Vickers, S16 Joel Heinrich, S21 Matthew Kennedy, S22 Jamie Crafter, S23 Jack McCarthy, S27 Cory Hodgson, S28 Renee Pestka, S33 Brad Evans, S37 Anthony McMillan, VX40 Jeremy Pearson, S41 Bronson Mauro, VX41 Aaron Kennett, S46 Mark Taylor, S47 Anthony Tapley, S50 Jordon Bolitho, S52 Jason Bolitho, S53 Nicole Southby, S57 Patrick Monaghan, S67 Cody Atkins, S71 Brett Ireland, S73 Melissa McMillan, S77 Mick Barker, V80 Reece Craig Harris, S93 Latisha Helyar.
Release By Phil Michell Motorsport Media
For Wingless Sprints SA
Ends Release.