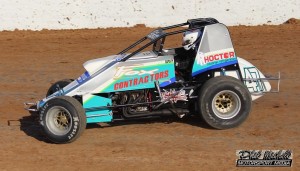 TAPLEY TOPS SA OPENER
BY Phil Michell Motorsport Media
Anthony Tapley etched his name into the record books as the first Wingless Sprint feature race winner of the 2017/18 South Australian season as he dominated the 20-lap feature at the Murray Bridge Speedway last Saturday night (September 30). After starting the race from position 5 Tapley made his way to the front in the early stages and he went on to defeat Victorian Michael McDonald by over seven seconds.
The opening show of the year saw 12 cars front for action, with the field including four drivers from across the border. The opening heat of the season didn't get off to a great start with the red lights coming on for Mildura's Jason Bolitho, who made contact with a spinning Aaron Doe forcing both cars to retire. Once the race got back underway Anthony Tapley went on to win the 10-lap heat ahead of David Cuppleditch, Peter Logue, Spencer Taylor and Michael McDonald.
After his incident in heat 1 Jason Bolitho returned for the second preliminary heat and after starting from the pole position he looked set to take the win before a slight mistake coming out of turn four surrendered the lead to Renee Pestka. McDonald would continue his impressive Murray Bridge debut to finish second ahead of Taylor, Logue, Victorian Mick Rigby, Doe and Bolitho.
Therefore, at the completion of the heats Pestka had emerged as the top qualifier ahead of Logue, McDonald, Taylor, Tapley and Cuppleditch.
At the drop of the green flag Logue made a terrible start holding up the outside line allowing Tapley to sweep up the inside and from that point he was never headed. Throughout the race the best battle on the track was for second with McDonald finally edging out Pestka to claim the runner-up spot. Fourth place went to rookie Jack McCarthy with Doe, Cuppleditch, Logue and Rigby completing the finishers.
The Wingless Sprints will be on the program again this Saturday night (October 7) at the Murray Bridge Speedway with a field of 10 drivers nominated.
Current Nominations: Saturday 7th October 2017 – S10 William Caruso, S16 Joel Heinrich, S19 Michael Spoljaric, S21 Matthew Kennedy, S23 Jack McCarthy (ROF), S24 Aaron Doe, S28 Renee Pestka, S30 Jaime Lee Andrews, S46 Spencer Taylor, S47 Anthony Tapley.