With the 2018-19 season having come to an end for the Victorian Wingless Sprints, it was time to celebrate the season that was, with the club doing so in style last Saturday night at the Geelong Football Club.
Having had approximately 40 race meetings scheduled throughout the season, 2018-19 was anything but quiet for the Victorian drivers and committee members. Equally as successful as it was busy, over 100 registered drivers took to the track, with many of them achieving notable results.
Receiving arguably the largest award of the night, Travis Millar was announced as the winner of the aggregate point score, after experiencing what can only be described as a stellar season, picking up a handful of feature-race wins, along with four minor podium finishers.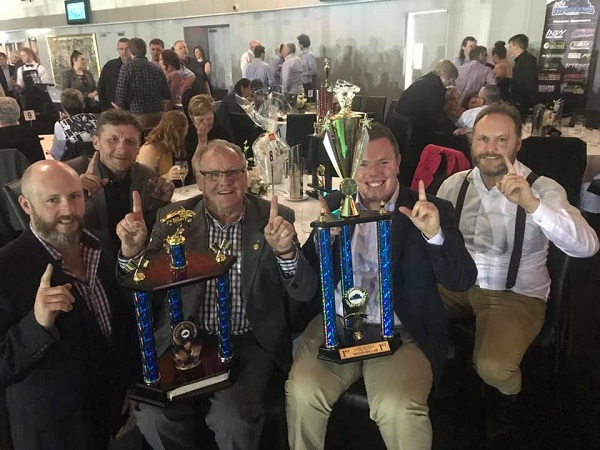 Previously finishing runner-up in last season's point score, Millar was pleased to go one better this time around. However, this wasn't the only silverware that he received during the night, also taking out the overall Indy Race Parts Super Series and improving on last season's third-place finish.
Consistency was key for Bree Hall in the Salt Electrical Ladies of the Dirt Series, which was shortened due to a number of rounds being cancelled as a result of inclement weather. Hall was awarded first place in the series after picking up a round win, along with a fourth and fifth-place result.
Jess Moulden was the only other driver to taste victory in the remaining series rounds, scoring two wins. However, it was a DNF in the second series round that hindered her points tally. Rounding out the top three was Jess Garlick.
Fought out over two nights during the Easter long weekend, the two Gary Bowden Memorial Cup rounds may have gone the way of Chris Halesworth and Millar, but it was rookie driver Jamie Mills and Brad Foster who wound up equal first in the point score, with Foster having come away with a pair of fifth-place finishes, while Mills backed up his ninth-place finish with second place.
Enjoying what has been a pleasing debut in the Wingless Sprint class, Matt Mills (Jamie's older brother) was named Rookie of the Year by virtue of his consistency, which also saw him achieve his maiden feature-race win with the class at Rosedale Speedway, with Jamie coming home in second on that occasion.
A credit to the team's dedication to their craft, the Storer Motorsport team, consisting of team drivers and brothers Daniel and Luke Storer, were chosen by their peers to receive the Best Presented Car and Team award, with their Castrol-branded cars making an impression both on and off the track throughout the season, being crowned South Australian and Victorian Champions respectively.
The Dennis Walsh Memorial Trophy was awarded to Steven Hateley, who was also lucky enough to win the $500 Performance Racegear draw, while the Most Improved Driver award was given to deserving recipient Foster, off the back of his pleasing Gary Bowden Memorial Cup win.
Following what was quite a challenging season, current Australia # 2 Luke Weel was honoured with the Driver's Driver award; a fitting accolade after a number of unlucky circumstances robbed him of what could have been his most successful season yet.
President's Awards were presented to Cook, Peter Green and Shane Coates.
Another highlight of course was the impressive victory of Alex Ross during the Australian Championship at Warrnambool's Premier Speedway, with Ross well and truly doing his state proud to take top honours amongst a formidable field of opponents.
Following the 2018-19 season, the Victorian Wingless Sprints couldn't be happier with the club's progress and continued growth. They're looking forward to getting the 2019-20 season underway later this year and making it even bigger and better.
The Victorian Wingless Sprints would like to thank the following 2018-19 season sponsors for their support:
Performance Racegear
Indy Race Parts
Salt Electrical
The Butchers Cut
CR Racewear Apparel
Trident Tyre Centre
Noel's Machinery,
The Tyre Factory Warrnambool
T&D Wholesale
McDowall Automotive
Bushy's Colac Fencing and Plumbing
BP Gambier West
D&F Racing Products
For more information about the Victorian Wingless Sprints, visit their website at www.awsr.com.au/vic or you can LIKE them on Facebook or FOLLOW them on Instagram or Twitter by searching Victorian AWSR Wingless Sprintcars.