Picking up where he left off last season, Luke Weel was quick to demonstrate his continued competitiveness last Saturday night, taking out the Twin Feature night, which doubled as the opening Salt Electrical Track Championship round, at Geelong's Avalon Raceway.
Despite lining up on the inside of the fourth row for the feature race, with his best heat-race result being second place, the defending Super Series Champion managed to make it count during the 30-lap feature race, maintaining his composure and going on to start his 2017-18 season off in the best possible fashion.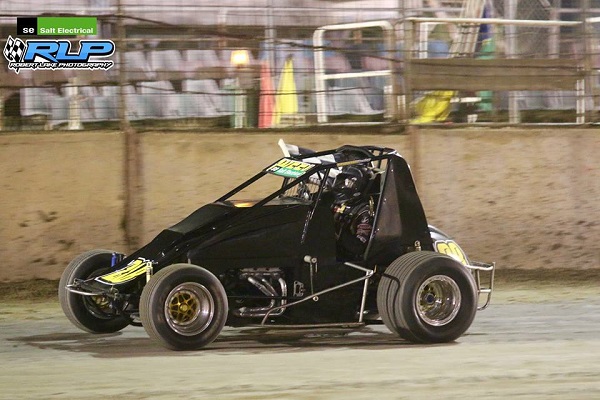 Photo: Robert Lake Photography
While it was Jeremy Beddison who started in pole position for the feature race, by virtue of the top three from the preliminary feature races being inverted, it was last season's Autobarn Eastern Challenge and Max Dumesny Motorsport Aggregate point score winner Travis Millar who capitalised on his pace during the first nine laps, making his way into the lead and surviving an ensuing restart, only to encounter mounting pressure from Weel, who took over second place just one lap later.
After a great battle for the lead between the pair, it was Weel who managed to conquer his rival, taking over the lead with five laps to go, before going on to score a convincing win, ahead of Millar and Todd Hobson, who managed to retain his third-place starting position. Next across the line were Peter Logue and Dayn Bentvelzen, with Mick Parry, second-place started Matthew Symons, Wayne Logue, Michael Skene and Nic Green completing the top 10.
Remaining finishers were Steven Hately, Marc Evans, Robert Stevenson, Luke Schneider, Carly Walsh, Jordan Abbott and Renae Eastham.
It was a disappointing night for Beddison, who was the second feature-race casualty on lap 12, having made contact with the wall, while Tony Moule's night was also brought to a premature end on lap five, after performing well throughout the earlier heat races and preliminary feature race, along with Warren Sell, who retired on lap 19.
Showing solid pace from the outset, Hobson placed second to Mathew Balcombe in his opening heat race, before winning his second, with remaining heat-race wins going the way of Green, Millar, Symons and Clint McLaren.
Bentvelzen was the best in preliminary feature race one, followed by Hobson and Symons, while Moule took the victory in preliminary feature race two, ahead of Millar and Beddison. The top three from preliminary feature race one was inverted to form the outside row for the feature race, while the top three from preliminary feature race two was inverted to form the inside row, gifting Beddison pole position.
For their next appearance, the Victorian Wingless Sprints will head to Nyora Raceway on the Sunday of October 22, where they will contest the Camp Quality event.
For more information about the Victorian Wingless Sprints, visit their website at www.awsr.com.au/vic. You can also LIKE them on Facebook by searching Victorian AWSR Wingless Sprintcars.