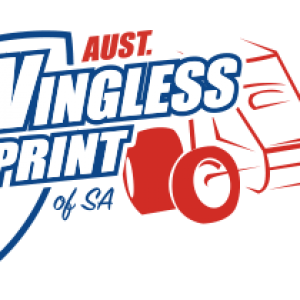 Who Will Take The SA Series Title?
By Phil Michell Motorsport Media
This Saturday night it will be a "Sunline Showdown" to decide the winner of the 2019/20 SA Wingless Sprint State Series at Waikerie's Sunline Speedway. Current leader Jake Ashworth will duke it out with last start winner Keke Falland and Anthony Tapley at the tight Riverland venue in what should be a great finale to the five-round series.
With Waikerie only hosting the Wingless Sprints occasionally it is very much a neutral venue therefore each of the 16 nominated drivers will take to the track with a realistic chance of taking the race victory.
Series leader Jake Ashworth has been a steady performer all season hence his position at the top of the chart, but he is still yet to win a main event, something he will be keen to alter this Saturday night.
With Ben Harris, who currently sits fourth overall in the Series, not nominating for the final, a top five overall result is there for taking with Anthony McMillan, Hayden Vickers and Renee Pestka all within striking distance and this battle will be a race within a race.
Last start runner-up Jack McCarthy will also be looking to move up the leader board and if he hadn't missed the round at Bordertown, he could have been in Championship contention.
The format for the night will see the drivers seeded into three groups prior to three heat races, with each of the drivers competing in two heats. The Series Finale will be run over 25 laps.
One of the real spoilers at Waikerie could be Joel Heinrich. Despite only contesting two rounds due to other racing commitments, Heinrich sits in 14th position courtesy of two round victories. Henrich won't be points racing and the only thing that he will be chasing will be his third series A-Main victory of the season. Heinrich has a Sunline Speedway A-Main victory to his credit after emerging victorious the last time the series visited the track a couple of seasons ago.
After dropping the previous round Lyndoch racer Cory Hodgson will be hoping to bounce back after falling down the overall points chart. Hodgson was entrenched in the top five, but he now finds himself in 9th going into this weekend and this isn't reflective of the speed the #27 has had this season.
Several other drivers would love to end the series on a high including Mildura youngster Jordon Bolitho, Mark Taylor, Bronson Mauro, Brad Evans, Melissa McMillan, Nicole Southby and Mick Barker.
Current Nominations – Sunline Speedway, Waikerie – Saturday 15th February 2020- SA State Series Grand Finale – (16 Cars) – S2 Jake Ashworth, S3 Keke Falland, S15 Hayden Vickers, S16 Joel Heinrich, S23 Jack McCarthy, S27 Cory Hodgson, S28 Renee Pestka, S33 Brad Evans, S37 Anthony McMillan, S41 Bronson Mauro, S46 Mark Taylor, S47 Anthony Tapley, S50 Jordon Bolitho, S53 Nicole Southby, S73 Melissa McMillan, S77 Mick Barker
Top 10 of 42 in points after 4 Rounds: 1. S2 Jake Ashworth 408, 2. S3 Keke Falland 398, 3. S47 Anthony Tapley 385 4. S9 Ben Harris 350, 5. Anthony McMillan 322, 6. S15 Hayden Vickers 303, 7. Renee Pestka 278. 8. Jack McCarthy 268, 9. S27 Cory Hodgson 267, 10. S77 Mick Barker 266.
Release by Phil Michell Motorsport Media for Wingless Sprints of SA
Ends Release…