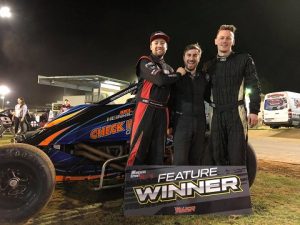 Heinrich Leads After Round 1
By Phil Michell Motorsport Media
After starting from position 8 Joel Heinrich stormed to a dramatic win in the opening round of the State Wingless Sprint Series at the Murray Machining and Sheds Speedway in Murray Bridge. Following a blistering start he quickly moved up inside the top 5 within the opening handful of laps and then he ran down the early race leader Jake Ashworth with an impressive run on the top groove. With 3 laps remaining he made the decisive move and he then went on to claim the opening round victory ahead of Ashworth and Matthew Kennedy. With the race running flag to flag Heinrich reset the 25-lap track record along with collecting the "Hard Charger Award".
"It was great to have a good car count at the first series round. I didn't have a great first heat which put me on the back foot, but the car was mega in the second heat and the feature. I think I was pretty lucky that feature and green to chequer over the 25-laps as I managed to get to Ashworth with about five laps to go which gave me chance to work out where my car was better than his and after a couple of laps I managed to clear him, I really must thank my old man Bruce and the rest of the crew for a great car" commented Joel following his opening round win.
Fourth across the line in the A-Main was regular Sprintcar driver Keke Falland, who was having his first drive in a wingless since finishing fourth in the 2015 Australian Title, while Anthony Tapley and pole sitter Renee Pestka completed the top six. Cory Hodgson finished seventh while Jack McCarthy, rookie Hayden Vickers and Mark Taylor, who had transferred from the B-Main, completed the top 10.
Earlier in the night six heat races were conducted with six different heat winners including Hayden Vickers, who claimed his first career heat victory, while Mick Barker and Cory Hodgson had wins during the opening round of heats. Veteran Norm Moore was a surprise winner of heat 4 with Heinrich and Ashworth also taking a win during round two.
Mark Taylor, Jamie Crafter, Jordon Bolitho and Bronson Mauro transferred to back of the main event after finishing in the top four in the Last Chance Qualifier but the fifth placed driver, Victorian Jeremy Pearson, also got a start in the final after Jamie Crafter failed to take his place.
Round 2 of the State Series will be held at the Tolmer Speedway at Bordertown on November 16, 2019.
State Wingless Series Points (Top 10 of 29): 1. S16 Joel Heinrich 113, 2. S2 Jake Ashworth 112, 3. S21 Matthew Kennedy 107, 4. S3 Keke Falland 104, 5. S28 Renee Pestka 102, 6. S47 Anthony Tapley 100, 7. S27 Cory Hodgson 97, 8. S15 Hayden Vickers 89, 9. S23 Jack McCarthy 88, 10. S8 Darryl Sloan 84.