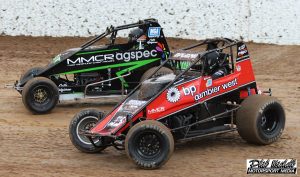 Wingless Battle at the Tolmer Bullring
By Phil Michell Motorsport Media
A record field of 25 Wingless Sprints will take to the "Bullring" this Saturday night (November 16) at the Tolmer Speedway in Bordertown for round 2 of the Wingless Sprints SA State Series. Following an exciting opening round at Murray Bridge a fortnight ago the action is sure to be just as hot as several drivers will be keen to take advantage of the absence of series leader Joel Heinrich.
With Heinrich not contesting round 2 of the 5 round series opening round podium place getters Jake Ashworth and Matthew Kennedy will be the drivers to watch but Mount Gambier's Mitchell Broome will make his series debut and he will be keen to build on his impressive start to the season, that includes a feature race win and a runner-up finish at Murray Bridge.
Fellow South East based racers Kirby Hillier and Michael Ross will also be out to gain as many points as possible at what can almost be considered a home track.
Anthony Tapley and Cory Hodgson, who have both recorded a pair of podium finishes in club events this season, feature winner Brett Ireland, impressive rookie Hayden Vickers, Darryl Sloan, Brad Evans and Renee Pestka can also be expected to be in the mix for the overall victory this Saturday night.
The real wildcard in the field could be regular Sprintcar driver Keke Falland, who was fourth in the opening round of the series in what was his first start in a Wingless Sprint since the Australian Title in Adelaide in 2015. The Loxton resident will be driving the #S3 owned by Roydn Bailey.
With Bordertown being so close to the Victorian border several Victorian entries have been received with Mildura residents Jason and Jordon Bolitho and Anthony and Melissa McMillan set to spice up the competition along with Steven Hateley and Robert Whiteside.
State Wingless Series Points (Top 10 of 29): 1. S16 Joel Heinrich 113, 2. S2 Jake Ashworth 112, 3. S21 Matthew Kennedy 107, 4. S3 Keke Falland 104, 5. S28 Renee Pestka 102, 6. S47 Anthony Tapley 100, 7. S27 Cory Hodgson 97, 8. S15 Hayden Vickers 89, 9. S23 Jack McCarthy 88, 10. S8 Darryl Sloan 84.
Current Nominations (25 Cars) – Tolmer Speedway, Bordertown – Saturday 16th November 2019: S2 Jake Ashworth, VX2 Robert Whiteside, S3 Keke Falland, S6 Michael Ross, S8 Darryl Sloan, S9 Ben Harris, S15 Hayden Vickers, S21 Matthew Kennedy, S27 Cory Hodgson, S28 Renee Pestka, S33 Brad Evans, S35 Mitchell Broome, S37 Anthony McMillan, S41 Bronson Mauro, S47 Anthony Tapley, S50 Jordon Bolitho, S52 Jason Bolitho, S53 Nicole Southby, V60 Steven Hateley, S67 Cody Atkins, S71 Brett Ireland, S73 Melissa McMillan, S77 Mick Barker, S86 Kirby Hillyer, S96 Tamika Pitcher.