Luke Redpath was victorious in last Saturday night's Tasmanian Wingless Sprint Title at Latrobe's Gulf Western & Independent Raceway and in doing so went on to record his second title win in a row.
Starting the 25-lap Tasmanian Title decider from the outside of the front row, Redpath, who is also the current Tasmanian Speedcar Champion and current Australia # 5 in Wingless Sprints, took full advantage of the clean air to lead all laps unchallenged, and in doing so, stamped his authority on being the most successful driver this season.
The Sassafras resident has now racked up nine feature-race victories so far this season. It was almost a perfect night for 29-year-old racer, with two heat-race wins, he entered the third and final heat race and went on to finish back in eighth.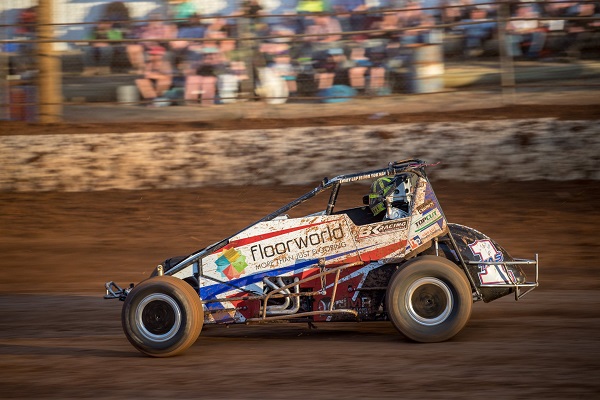 Photo: Angryman Photography
Finishing in the runner-up spot for the Tasmanian Title was the pole sitter, Jeremy Smith. Like Redpath, Smith, who was coming off a feature-race victory just a week prior, remained in second position for the entire race distance and tried everything to take the race lead from Redpath. In the end though, Smith finished just over half a second behind Redpath. It was an improvement for Smith on last season's title result, finishing one spot better than his 2017 title campaign.
Coming home in third was Bradley Walkley. It was a massive boost for Walkley, putting the disappointment of a DNF at last season's title behind him to record a podium finish. Walkley was sitting in fourth for 23 of the 25 laps before making a move with just two laps remaining to snare the final podium spot.
Jamie Rolls looked to have third place all wrapped up; however, he had to settle for fourth after Walkley passed him with just a handful of laps remaining. Rolls qualified third for the feature race and stayed within striking distance of the two front-runners but was relegated to fourth after Walkley slipped by.
Rounding out the top-five finishers was Jacob Goodluck. After qualifying for the feature race in sixth, Goodluck, who has had a consistent season to-date, moved into fifth place in the opening laps and managed to fend off all challenges to remain there for the remainder of the race.
The lone interstater for the event, South Australia William Caruso endured an up and down Tasmanian Title campaign. The car he was scheduled to drive, which was put together by local racer Ryan Harding, had issues prior to the start of the race meeting. This forced Caruso out of that car and, by the generosity of Harding, he jumped into the car that Harding was scheduled to race. Despite the setbacks, Caruso came home in sixth place.
The remaining finishers were Troy Lewis and Peta Wicks in seventh and eighth place respectively.
Samuel Laing was the feature race's only non-finisher. Due to dramas in the earlier heat race, Brian Mathieson was unable to take his place in the feature-race field.
Earlier in the night, three heat races were contested with the opening two wins going to Redpath and Caruso getting a solid victory in the final heat race of the night.
For further AWSR information, visit their website www.awsr.com.au or LIKE them on Facebook or follow them on Instagram and Twitter by searching Australian Wingless Sprint Racing.