The biggest event on the Tasmanian Wingless Sprints season calendar is set to be fought out this Saturday night at Latrobe's Gulf Western & Independent Oils Raceway with the running of the 2018 Tasmanian Wingless Sprint Title.
A small but quality field of 12 drivers will contest the event which includes 11 local drivers and one mainland driver in South Australian William Caruso, who has travelled over Bass Straight in search of a strong showing.
Leading the list of nominations is defending Tasmanian Champion and this season's form driver Luke Redpath. The Sassafras-based racer, who recently won the Tasmanian Speedcar Title, came out on top after a titanic battle with then newly-crowned Australian Champion Joel Chadwick during last season's event, when he fended off the pressure from Chadwick and led all 30-laps. Redpath would love nothing more than to successfully defend his Tasmanian Title, and he certainly has form on his side with eight feature-race wins this season.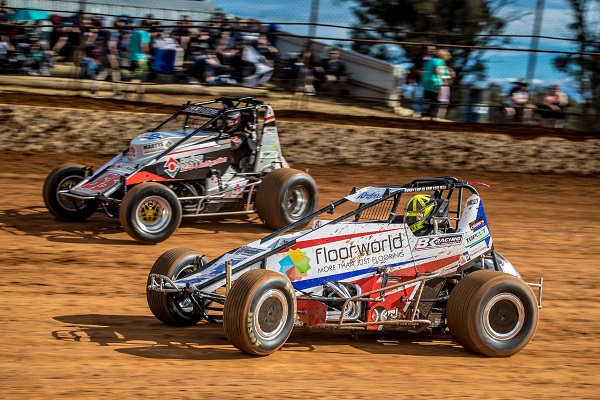 Photo: Angryman Photography
Jeremy Smith returns to action this Saturday night after taking out last Sunday night's Make A Wish Charity Dash for Cash at Carrick Speedway. He will be one of the contenders to keep an eye on and is a previous minor podium finisher in the event.
Another driver carrying good form into his Tasmanian Title assault is Bradley Walkley. Competing on the mainland this season, which included the Australian Championship, Walkley has gained valuable experience, and he showed that with a season-high finish of second in last Sunday night's event.
The lone interstater for the event is South Australian William Caruso. Having some solid runs in the last few weeks makes Caruso a genuine Tasmanian Title threat. A recent second place at Murray Bridge Speedway and several good runs to date this season loads him with extra confidence.
Launceston's Wade Lello is another Tasmanian Title contender. Lello has already snared a feature race win earlier this season, and the 20-year-old racer would love nothing more than to add another win at the Tasmanian Title.
Completing the Tasmanian Title field will be Ryan Harding, Jacob Goodluck, Troy Lewis, Peta Wicks, Samuel Laing and Brian Mathieson.
The format will see drivers contest three rounds of 10-lap heat races before the 30-lap Tasmanian Title decider.
2018 Tasmanian Title Nominations (12):
T5 Jeremy Smith
T7 Peta Wicks
T8 Troy Lewis
S10 William Caruso
T10 Luke Redpath
T44 Jacob Goodluck
T47 Samuel Laing
T51 Brian Mathieson
T55 Ryan Harding
T77 Wade Lello
T83 Jamie Rolls
T87 Brad Walkley
For further AWSR information, LIKE them on Facebook or follow them on Instagram and Twitter by searching Australian Wingless Sprint Racing.