In a season that's so far been dominated by Travis Millar and Dayn Bentvelzen, Andy Hibbert certainly picked the right time to hit his stride, clinching last Saturday night's opening Indy Race Parts Super Series round at Moama's Heartland Raceway (NSW).
While it was Bentvelzen who was victorious in the season opener and current Victorian Champion Millar who took out the recent Nyora Nationals and Jackpot Invitational events, it was Hibbert who managed to put some runs on the board last Saturday night to get his Indy Race Parts Super Series campaign off to a winning start.
With the close heat-race action earlier in the night resulting in four drivers sitting on equal points heading into the feature race, pole position was awarded to Hibbert by virtue of the former Super Series Champion having recorded the fastest lap time during the heat races, and it was an advantage that he certainly didn't waste.
Stepping back into his own car for his Super Series campaign, Hibbert immediately took control of the lead at the drop of the green flag, holding onto it throughout the entire 20-lap duration to claim what was a convincing win.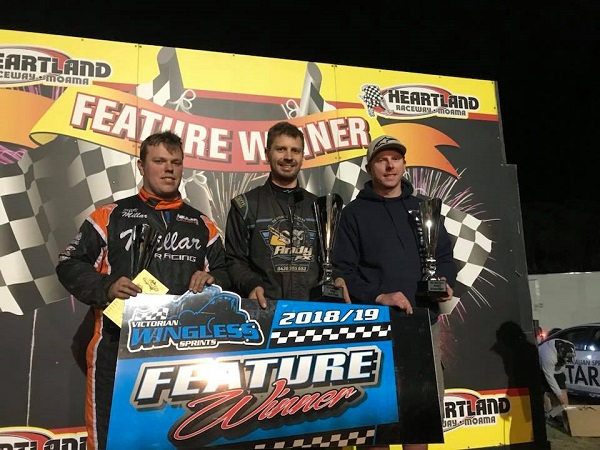 After starting from position seven for the feature race as a result of the tight heat-race point score, Bentvelzen progressively made his way forward during the race, with a last-lap pass awarding him with the runner-up spot ahead of Millar, who did well to hold on for a third-place result while suffering a rapidly deflating tyre.
Narrowly missing out on his second minor podium finish for the season, Luke Schneider greeted the chequered flag in fourth place, while Steve Loader delivered one of his best drives yet to place fifth.
South Australia visitor Mitchell Broome was next across the finish line, followed by Alex Thomson, Geoff Cook, defending Super Series Champion Daniel Storer and Matthew Symons, who rounded out the top-10 finishers. After qualifying into the feature race via the B main and making his way up to 11th, Mitchell Smith received the Hard-Charger Award and a $100 Indy Race Parts voucher for his efforts.
The feature-race finishers were completed by Bhoe Paterson in 12th ahead of Matthew Balcombe, Luke Storer, Shaun Lyness, Tyson Bartlett, Jordan Abbott, Steven Hateley and Andrew Seery (NSW).
It was a disappointing end to the night for former Super Series Champion Luke Weel, who had made his way up to second place from ninth before losing oil pressure on an ensuing restart with three laps to go, only to be hit by another car as he lost power. Joining Weel on the infield was Gavin Fitzpatrick, along with Peter Granger (NSW), Wayne Milburn Jnr and Robert Whiteside, the latter three of which were all involved in a lap-four pileup.
The heat-race action was arguably just as entertaining as the feature race, with only 11 points being the difference between the first 20 cars to qualify for the feature race, while the difference in lap times between position one and seven was a mere .451 of a second. The wins were shared between Daniel Storer, Symons, Millar, Thomson, Balcombe, Bartlett, Hibbert and Loader.
In the B main, it was Hateley who claimed the first transfer spot into the feature race, followed by Wayne Milburn Jnr, Seery and Symons.
For their next appearance, the Victorian Wingless Sprints will be racing a club show at Darlington's Mid-Western Speedway this Saturday night (November 24), while the second Indy Race Parts Super Series round is to be held at Simpson Speedway on the Saturday night of December 1.
The Victorian Wingless Sprints would like to thank the naming rights sponsor of their 2018-19 season Super Series: Indy Race Parts.
Operating out of their warehouse in Geelong, Victoria, Indy Race Parts Australia is the Australian arm of American speedway parts and accessories supplier Indy Race Parts, which is based in Indianapolis. Stocking a wide range of products, including complete race car chassis, tyres, methanol and more, predominantly across Sprintcars, Wingless Sprints and Speedcars, Indy Race Parts Australia is considered one of the country's leading speedway suppliers.
To find out more about Indy Race Parts Australia or to get in touch with them, LIKE them on Facebook by searching Indy Race Parts Australia or call Tim Fisher on 0438 819 444.
For more information about the Victorian Wingless Sprints, visit their website at www.awsr.com.au/vic. You can also LIKE them on Facebook by searching Victorian AWSR Wingless Sprintcars.