After visiting the podium already this season, Geoff Cook was knocking on the door for his maiden feature-race win, and last Saturday night during the Victorian Wingless Sprints club show at Darlington's Mid-Western Speedway, he finally managed to achieve the milestone.
While it was Cook who claimed the feature-race spoils, it was Luke Storer who earned the pole position start for the 20-lap feature race by virtue of a successful run during his two heat races.
However, Storer's elation at taking control of the lead in the feature race didn't last long, with the driver receiving a black flag, due to mechanical reasons just six laps in, leaving Cook in prime position to take over first place, eventually crossing the finish line in convincing fashion to claim his maiden victory.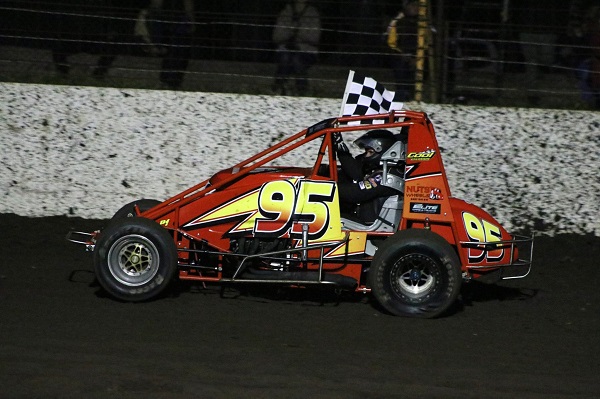 Photo: Grumpy & Sons Photography
Next to greet the chequered flag was come-back racer Phil Micallef, who did well to improve on his sixth-place starting position to come home in the runner-up spot, ahead of Clint McLaren, who rounded out the podium in third place.
After coming from the outside of the fourth row, Matt Bartlett delivered a solid drive, powering through the field to fourth place, while Marc Evans's performance produced similar results, after coming from position nine to finish fifth.
The remaining feature-race finishers consisted of Kelvin Johnson in sixth ahead of Glenn Perkins, Shaun Clapp, Jessie Garlick, Paul Newcombe and Leigh Armistead.
Luke Schneider, who had enjoyed a consistent start to the season, was the first to have his race cut short after completing just two laps, while several other drivers joined him and Storer on the infield, including Graham Payne, Michael Skene and Steven Hateley.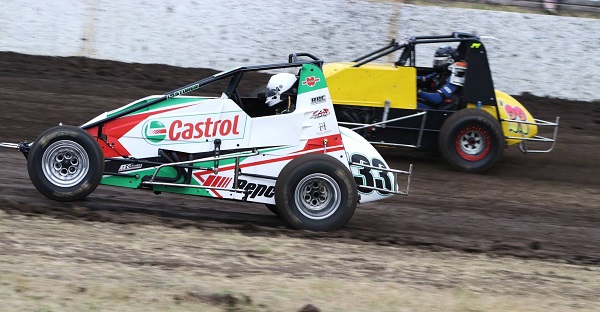 Photo: Grumpy & Sons Photography
In addition to Storer's two heat-race victories, other heat-race wins went the way of Cook and Skene.
The next outing for the Victorian Wingless Sprints will be this Saturday night at Simpson Speedway for the second round of the Indy Race Parts Super Series, where drivers will be hoping to claw back some points on Andy Hibbert, who banked valuable points thanks to his round one victory.
For more information about the Victorian Wingless Sprints, visit their website at www.awsr.com.au/vic. You can also LIKE them on Facebook by searching Victorian AWSR Wingless Sprintcars.