Attempting to contest the second round of the Indy Race Parts Super Series at Simpson Speedway last Saturday night amid impending storms, the Victorian Wingless Sprints were forced to bring the race meeting to a halt prior to completing the feature race.
Despite the fact there could be no round two winner, which was proudly sponsored by Bushys Fencing & Plumbing in Colac, with drivers and teams taking cover from the torrential rain, the earlier heat races and B mains produced some great racing.
Being the only driver to double up in the heat races with a pair of victories, local Matthew Symons was set to start from pole position for the feature race, alongside opening round runner-up finisher Dayn Bentvelzen, who also picked up a heat-race win.
South Australian visitor Kirby Hillyer's heat-race win was enough to earn the inside, second row starting position, while former Super Series Champion Luke Weel would have starter out of position four following his heat-race victory.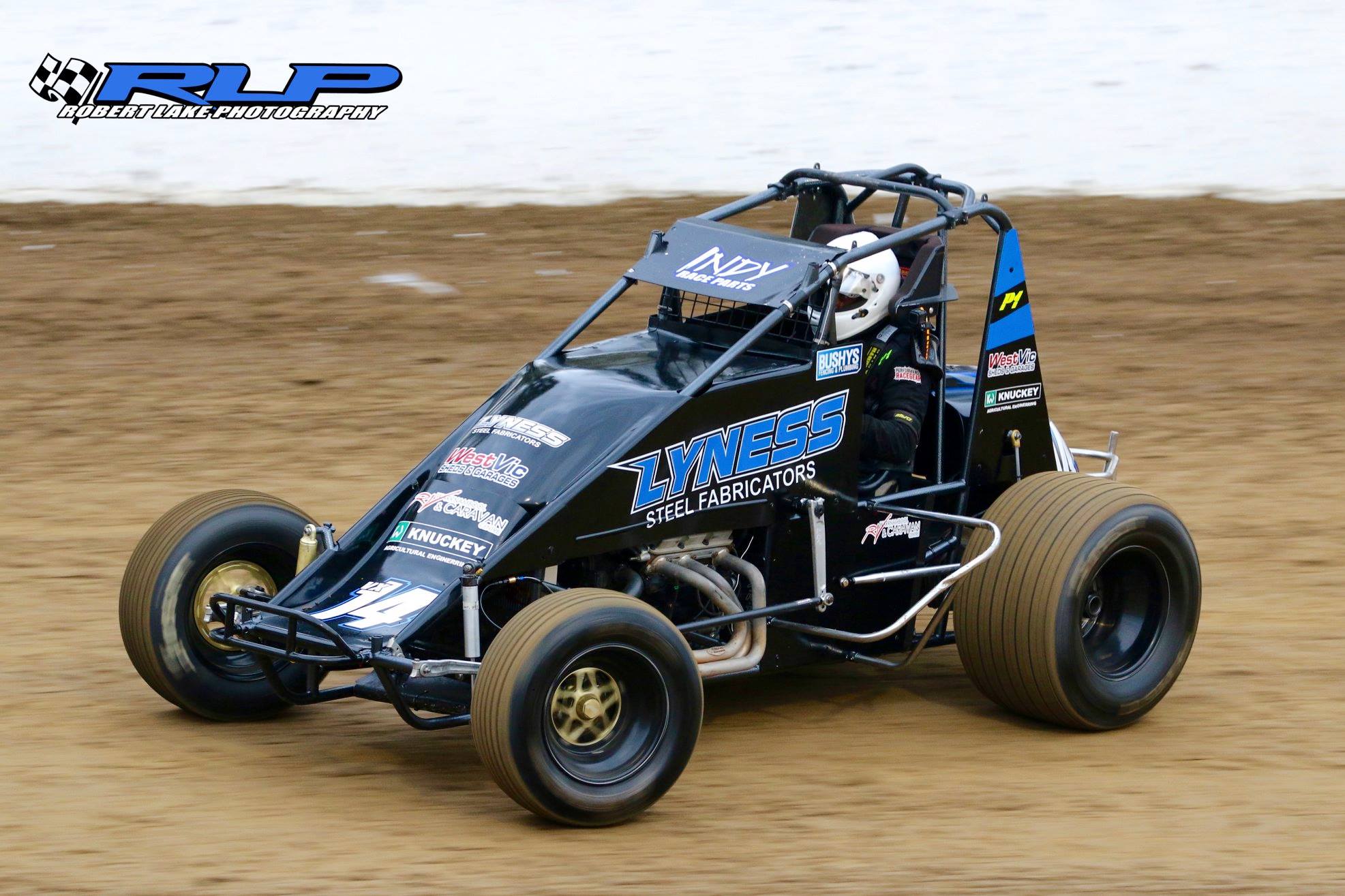 Photo: Robert Lake Photography
Defending Super Series Champion Daniel Storer would have been the fifth-place feature race starter, with other drivers to qualify directly into the feature race including Shaun Lyness, Graham Payne, NSW-based racer Luke Sayre, Ben Doukas, Alex Ross, current Victorian Champion Travis Millar, Jeremy Beddison, Dan Kelly and Geoff Cook. Of these drivers, Storer, Beddison and Kelly were the other heat-race victors.
In B main one, it was Chris Halesworth who claimed first-place honours, ahead of would-be feature race transferees, Aron Lawrence, Mitchell Broome and Carly Walsh. B main two saw Tyson Bartlett clinch first place, followed by Leigh Armistead, Kelvin Johnson and Steven Hateley.
Eager to get the third Indy Race Parts Super Series round underway this Saturday night at Geelong's Avalon Raceway, a number of drivers will have a lot to prove after the second round of the series was cut short. At the completion of Saturday night's round, Drouin Speedway will also be hosting a club show on Sunday.
The Victorian Wingless Sprints would like to thank the naming-right's sponsor of their 2018-19 season Super Series: Indy Race Parts.
Operating out of their warehouse in Geelong, Victoria, Indy Race Parts Australia is the Australian arm of American speedway parts and accessories supplier Indy Race Parts, which is based in Indianapolis. Stocking a wide range of products, including complete race car chassis, tyres, methanol and more, predominantly across Sprintcars, Wingless Sprints and Speedcars, Indy Race Parts Australia is considered one of the country's leading speedway suppliers.
To find out more about Indy Race Parts Australia or to get in touch with them, LIKE them on Facebook by searching Indy Race Parts Australia or call Tim Fisher on 0438 819 444.
For more information about the Victorian Wingless Sprints, visit their website at www.awsr.com.au/vic. You can also LIKE them on Facebook by searching Victorian AWSR Wingless Sprintcars.