Backing up her winning performance in round one, Jess Moulden is no doubt one of the drivers who is leading the way in the Salt Electrical Ladies of the Dirt Series point standings, with last Saturday night's victory in the third series round at Nyora Raceway further consolidating her position.
With the weather having not been kind so far throughout the Salt Electrical Ladies of the Dirt Series, causing two rounds to be cancelled, the drivers were eager to take to the track during last Saturday night's event and it was Moulden who made her presence known from the outset.
Qualifying on pole for the 15-lap feature race by virtue of a win and a runner-up finish in the heat races, Moulden was a model of consistency during the event, hitting each of her marks and claiming first place, making it two wins from three contested rounds, which has well and truly cemented her place at the top of the leaderboard.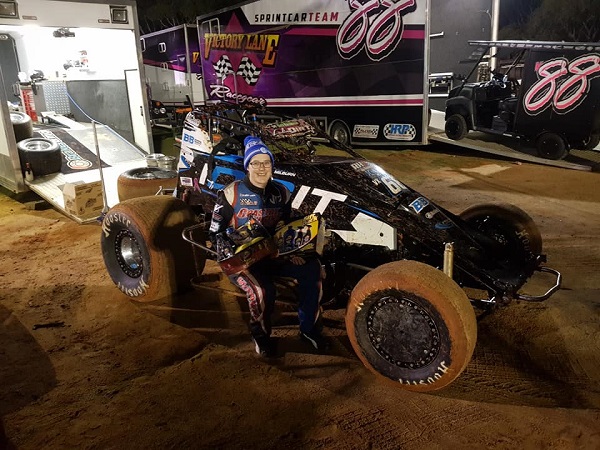 Not contented to settle for second place, a hard-charging Renae Eastham refused to make things easy for Moulden after lining up alongside the pole-sitter on the front row. However, despite applying constant pressure throughout the distance, Eastham wasn't quite able to make a passing move, eventually greeting the chequered flag not far behind the winner.
Ebony Hobson scored the final podium place, while Samantha Millar, Bree Hall, Jessie Garlick and Jade Moule completed the feature-race finishers.
Previewing what would be an exciting battle during the feature race between the top two, Moulden was victorious in the opening heat race, followed by Eastham, who took top honours in heat-race two.
With the final round at Darlington's Mid-Western Speedway having been cancelled, the Salt Electrical Ladies of the Dirt Series has now been concluded.
The Victorian Wingless Sprints would like to thank the naming rights sponsor of the Ladies of the Dirt Series: Salt Electrical. Established in 1954, Salt Electrical is a family-run business that is dedicated to providing prompt and professional electrician services throughout Geelong and surrounding areas. For further information, visit www.saltelectrical.com.au or call 03 5222 4222.
For more information about the Victorian Wingless Sprints, visit their website at www.awsr.com.au/vic or you can LIKE them on Facebook or FOLLOW them on Instagram or Twitter by searching Victorian AWSR Wingless Sprintcars.