With a strong field turning out for last Saturday night's final ML Automotive Repairs Series round at Nyora Raceway, it was youngster Chris Temby who surprised even himself by delivering a strong performance to clinch his maiden feature-race victory.
The result was a popular one amongst Temby's fellow competitors, who were impressed with the way he managed to navigate the tricky track conditions throughout the event to win both of his heat races, putting him out of pole position for the 20-lap feature race.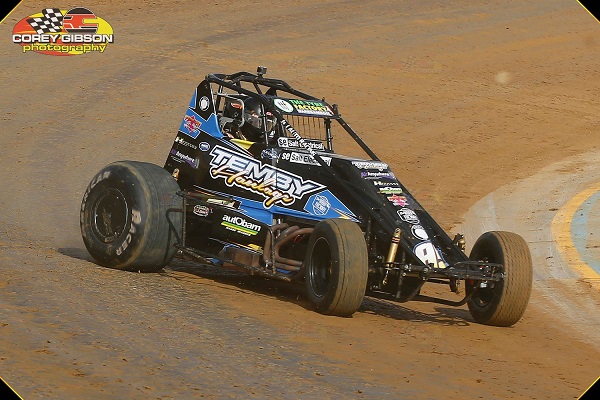 Photo: Corey Gibson Photography
While it was Temby who was in prime position to make an early charge forward, he certainly didn't have it all his own way, enduring immense pressure from Travis Millar, who was quick to pounce as soon as there was an opportunity to pass Temby.
With Millar holding strong out in front, Temby was going to have to make the most of the several ensuring restarts, and that's exactly what he did, capitalising as Millar ran wide to take back first place, before going on to greet the chequered flag as the winner.
Forced to settle for second place, Millar was the next to cross the finish line, followed by Todd Hobson, who enjoyed a competitive run throughout the night, while Travis Evans and Steven Loader rounded out the top five.
Remaining finishers included Matt Mills, Brad Foster, Ebony Hobson, Jamie Mills (Matt's younger brother), Gavin Fitzpatrick, Renae Eastham, Thomas McDonald, Tony Moule, Brett Pope, Ben Poliansky, Jake Warren, Ricky Mills and Kim-Loong Gosling.
With Temby being the only driver to win both of his heat races, remaining heat-race wins went the way of Millar, Todd Hobson, Matt Mills and Evans.
Earning a transfer spot into the feature race, Moule came away with the win in the B main ahead of McDonald, Ricky Mills and Poliansky.
A second-place finish was enough for Millar to take out the overall ML Automotive Repairs Series at Nyora Raceway, pocketing $1,100 for his efforts, while Brad Foster collected $750 for second place and Matt Mills was awarded $500 for third place. Just missing out on a top-three result, Todd Hobson placed fourth.
The final appearance for the Victorian Wingless Sprints is set to take place on the Saturday and Sunday nights of June 8 and 9 with a doubleheader at Horsham's Blue Ribbon Raceway.
For more information about the Victorian Wingless Sprints, visit their website at www.awsr.com.au/vic or you can LIKE them on Facebook or FOLLOW them on Instagram or Twitter by searching Victorian AWSR Wingless Sprintcars.