The Christmas-New Year period is widely known as the season of giving, and when it comes to the state of Victoria, there is going to be plenty of giving when it comes to Wingless Sprint racing.
After what has been a solid start to the 2018-19 season, which has seen a number of race meetings boast over 50 cars, with lots of healthy competition throughout the field and multiple feature-race winners, the Christmas-New Year period will consist of a total of six race meetings, all being held within the space of just under a fortnight.
Starting in the Gippsland region of the state, a doubleheader will be held at Bairnsdale Speedway and Rosedale Speedway on December 26 and 27, which is sure to be hotly-contested, being the first Wingless Sprint racing to take place at the tracks this season and with plenty of stiff competition based in the area.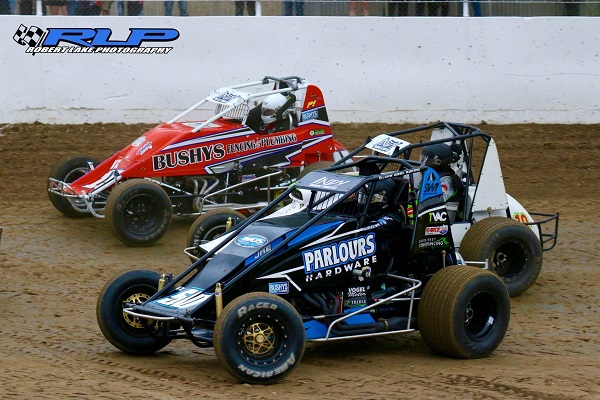 Photo: Robert Lake Photography
Drivers will then travel to the south-west region of the state on December 28, converging at the tight confines of Laang Speedway to fight it out in the annual Crossfire Shootout, completing three continuous nights of racing.
Early in the New Year, the popular Summer Series will commence, with defending champion Daniel Storer aiming to clinch back-to-back series victories. Once again, the series will consist of three rounds which will take place over three consecutive nights, commencing on January 4 at Mount Gambier's Borderline Speedway (SA), followed by round two at Hamilton's Western Speedway on January 5 and the third and final round at Warrnambool's Premier Speedway on January 6.
With the round three being the only opportunity for drivers to get some laps at the track prior to the 2019 running of the Australian Championship the following month, it's no doubt going to attract a massive field.
In addition to being the perfect lead up to the Australian Championship at Premier Speedway on February 21, 22 and 23, the next fortnight will also be a great chance for Victorian and visiting interstate drivers to prime themselves for the upcoming Victorian Title at Geelong's Avalon Raceway on Australia Day (January 26).
For more information about the Victorian Wingless Sprints, visit their website at www.awsr.com.au/vic or you can LIKE them on Facebook by searching Victorian AWSR Wingless Sprintcars.