It's going to be extremely tough to beat the NSW natives in this weekend's Australian Wingless Sprints Championship at Valvoline Raceway, with a whopping 59 contenders hoping that their home state advantage will be enough to win them top honours.
Having just taken out the NSW Title at the Sydney venue, conquering a 60-strong field to do so, all eyes will be on newly-crowned NSW Champion Dean Thomas, with the current Valvoline Raceway Track Champion being in the best possible form to clinch another pleasing result. Joining Dean in the nominations will be two of his brothers, Jeff and Steve, with the trio hoping to do their family proud.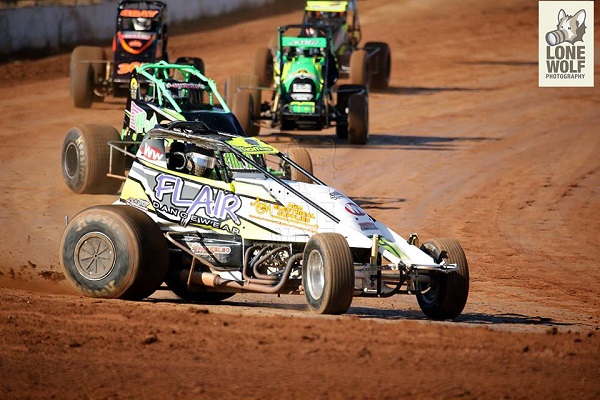 Photo: Lone Wolf Photography
Veteran Mark Blyton has been in strong from throughout the 2017-18 season so far, having collected two feature-race victories and a handful of minor podium results, and he will be looking to convert this form into a strong Australian Championship result, while 2016 NSW Champion Jason Bates will be out to prove himself, having been very competitive this season despite not recording a feature-race win, along with current Northern Territory Champion Troy Carey.
Luke Sayre, Peter Granger and Ashleigh Jack have each experienced success this season, with a feature-race win apiece, which they'll be hoping to continue when they take to the Valvoline Raceway track, while surprise packet Jason Martin will be one of the underdogs heading into the event, having recently achieved his career-best result with a third-place finish in the NSW Title.
After a disappointing premature retirement in the recent NSW Title, Sean Dicker will be hoping to turn his luck around in the Australian Championship, while his brother Jamie, who recently finished an impressive fifth in the NSW Title, is going to be right amongst the front runners. Rewarded with his second career feature-race win earlier this season, youngster Harley Smee will be hoping to continue his momentum and come away with a pleasing Australian Title result, while previous minor podium finisher this season Jason Davis and father and son duo Graham and Daniel Flood will also be in attendance. The latter being the current Queensland Champion.
Northern NSW will be strongly represented, with 2016 Queensland Champion Trent Martin leading a group of contenders, which includes David Eggins, Robert Mazzer, veteran Mick Santin, Michael Butcher, Warren King and Natasha Herne, into battle.
Lou Pacchiarotta will be joined in the Australian Title field by his nephew Zac, while 2012 Australian Title podium finisher (third) and a recent returning driver to the class Joel Rhind, veteran Brian Briton, Sean Mayo, Kyle Mock, John McRae, Kyle Angel, Parker Eveleigh, Jamison Blyton (Mark's son), O'Brien brothers Mitch and Leighton, Jeff Neve, Darryl Marshall, Troy Baker and Geoff Piekar are all aiming to run strongly throughout the heat races in the hope of giving themselves the best chance of qualifying into the feature race.
Completing the NSW nominations are Tyson Williams, Mitchell Pyne, Max Risbridger, Cody Boulding, Coby Elliott, Jacqui Salmon, Andrew Seery, Lawrence McDougall, Shane Chippindale, Nick Tatnell, Mitch Manning, Drew Hillman, Kyle and Jack Ionn, Jarrad Rust, Michael Gray, John Newman, Brock Gardiner, Wayne Arnold and Simon Bestmann.
The Australian Championship will be held over three nights, beginning on Thursday (February 1) with scrutineering during the day and the Calcutta at night. The following night (February 2) will see drivers hit the track to contest hot laps, three rounds of heat races and a preliminary feature race, with the fourth and final round of heat races, the D main, C main, B main and the Australian Championship-deciding feature race to be held on the Saturday night (February 3).
To find out more about the Australian Championship, contact Mick Parry on 0423 548 622.
For more information on the AWSR, visit their website at www.awsr.com.au or LIKE them on Facebook or Follow them on Instagram and Twitter by searching Australian Wingless Sprint Racing.