Ahead of this weekend's Australian Wingless Sprints Championship at Sydney's Valvoline Raceway, a healthy list of 25 Victorian drivers are preparing to cross the border into NSW territory in hope of bringing the championship crown home.
Luke Weel will be a strong favourite heading into the Australian Championship, off the back of what was a heartbreaking end to last season's running of the event at Carrick Speedway in Tasmania. Winning the preliminary feature race and topping the overall point standings in during the opening night of competition, Weel went on to qualify in pole position for the Australian Championship-deciding feature race, before experiencing a disappointing DNF. For Weel, this was the second Australian Championship in a row that he had qualified on pole position only to suffer misfortune.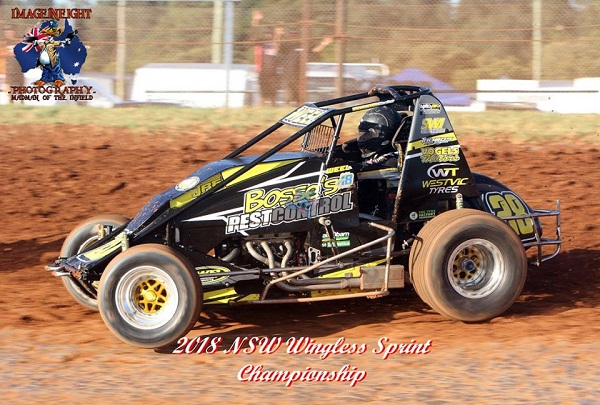 Photo: Crashy's Photos
Having commenced his 2017-18 season in the best possible fashion, winning the season opener at Geelong's Avalon Raceway, Weel, who is the defending Victorian Super Series Champion, has now racked up four feature-race wins for the season and will certainly not be easy to beat. Weel contested the recent NSW Title at Valvoline Raceway, and after a tough time in the earlier heat races, started towards the back of the feature race after having to qualify via the B main and went on to finish in 13th.
While he hasn't yet tasted feature-race victory this season, current Victorian Champion and Australia # 4 Glenn Watts has proven experience in winning title events and will no doubt be one to watch, as will current Australia # 3 Daniel Storer, who couldn't ask for better form heading into the Australian Championship, having recently taken out the overall Summer Slam Series in impressive fashion.
Piloting the Vic # 2 Fitzpatrick Autosports car, Travis Millar has already cut some laps around the Valvoline Raceway track, having competed in the recent NSW Title where he recorded a top-10 result despite losing the use of brakes in the early stages, and he will be hoping to use this to his advantage.
Millar, along with defending Avalon Raceway Track Champion Chris Halesworth and veteran racers Tony Moule and Peter Logue, visited victory lane earlier this season and will be aiming to repeat this feat, while Peter's son Wayne Logue, youngster Todd Hobson and Shaun Lyness have each achieved minor podium finishes and will be hoping to qualify strongly.
Carly Walsh will be striving for a consistent performance throughout the Australian Championship and qualify for Saturday night's feature race, along with Luke Storer, who's aiming to improve on last season's 11th place finish in the event.
Returning driver Andy Hibbert, a former Australian Championship podium finisher, will also be amongst the nominations, along with Brittany Kuypers, Mathew Symons, Clint McLaren, Mathew Balcombe, Michael Skene, Aron Lawrence, Alex Thomson, Scott Irons, Travis Evans, Geoff Cook, David Cook and Michael McDonald, with each of the drivers hoping to perform strongly.
The Australian Championship will be held over three nights, beginning on Thursday (February 1) with scrutineering during the day and the Calcutta at night. The following night (February 2) will see drivers hit the track to contest hot laps, three rounds of heat races and a preliminary feature race, with the fourth and final round of heat races, the D main, C main, B main and the Australian Championship-deciding feature race to be held on the Saturday night (February 3).
To find out more about the Australian Championship, contact Mick Parry on 0423 548 622.
For more information on the AWSR, visit their website at www.awsr.com.au or LIKE them on Facebook or Follow them on Instagram and Twitter by searching Australian Wingless Sprint Racing.