After spending over 40 hours in transit, travelling across the Nullarbor and into Sydney's Valvoline Raceway in NSW, the three-man Western Australian contingent will be raring to launch their Australian Wingless Sprints Championship campaigns this weekend.
Heading up the west coast trio will be Daniel Hartigan, who arrived at the Sydney venue early to participate in the recent NSW Title so that he can gain as much track time and experience ahead of the upcoming Australian Championship as possible. Unfortunately for Hartigan, his NSW Title campaign ended with a disappointing 19th-place finish, after he was relegated to the rear of the field due to contact from another competitor while fighting for a top-five position with 10 laps to go.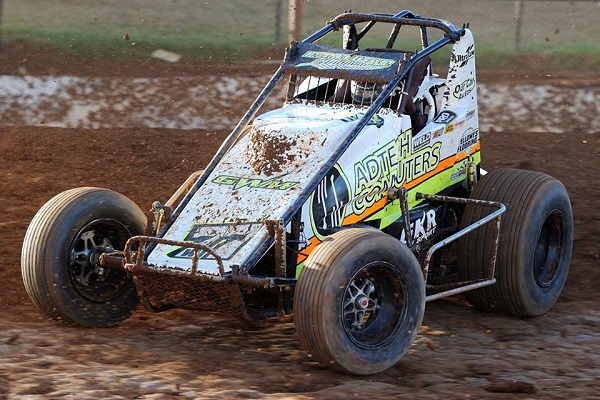 Photo: Gary Reid
No stranger to going up against the country's best drivers in title events, the two-time Australian Champion will be hoping to improve significantly on last season's Australian Championship result, which saw him start the feature race from rear of field due to his defending champion status, after failing to qualify for the race following some misfortune in his heat races. While he managed to salvage a hard-charging ninth-place finish, Hartigan will no doubt give his all in the hopes of claiming Australian Championship # 3.
Currently contesting his third full season with the class, impressive Matthew Iwanow has barely put a foot wrong this season; a trend that he aims to continue when he takes to the track in the upcoming Australian Championship.
While the 20-year-old racer hasn't completed an abundance of interstate travelling in the class, he's certainly not to be discounted, with his consistent form rewarding him with a top-three result in most of his contested race meetings so far, including six feature-race wins.
Completing the Western Australian nominations, Mitchell White also had the opportunity to test himself at Valvoline Raceway prior to the Australian Championship. White, who travelled over east with his good friend Hartigan, narrowly missed out on a feature-race transfer at the NSW Title after placing seventh in B main 2. He will no doubt be hoping to make amends in the upcoming Australian Championship and gain feature-race qualification.
The Australian Championship will be held over three nights, beginning on Thursday (February 1) with scrutineering during the day and the Calcutta at night. The following night (February 2) will see drivers hit the track to contest hot laps, three rounds of heat races and a preliminary feature race, with the fourth and final round of heat races, the D main, C main, B main and the Australian Championship-deciding feature race to be held on the Saturday night (February 3).
To find out more about the Australian Championship, contact Mick Parry on 0423 548 622.
For more information on the AWSR, visit their website at www.awsr.com.au or LIKE them on Facebook or Follow them on Instagram and Twitter by searching Australian Wingless Sprint Racing.