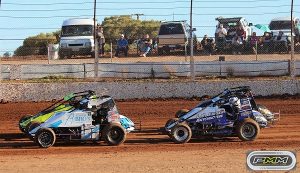 A Hat Trick On Offer For McCarthy
By Phil Michell Motorsport Media
On Saturday night at the Murray Machining and Sheds Murray Bridge Speedway, Jack McCarthy will be searching for his third successive feature event in the Wingless Sprint category after claiming his latest victory at the Whyalla Speedway last weekend.
After finishing second in his opening heat before winning his second by a huge margin, McCarthy went on to win the dash before leading every lap of the 20-lap final but he was hounded all the way by Hayden Vickers and Tyson Martin.
Martin would eventually claim the runner-up spot after getting the better of Vickers by executing an exciting outside pass to claim the runner-up spot. Martin would then come up agonisingly short of victory as he finished just over .5 of a second behind the jet black #23.
Fourth place went to Rylan Furler in the Ti Bills supported A-Main while Jesse Alexander, Brett Ireland, Bronson Mauro, event sponsor William Caruso, Harley Alexander and Nicole Southby rounded out the top 10. Jenna Kervers, Chris James and Darryl Knuckey were the final finishers.
In addition to McCarthy the heat winners were Hayden Vickers, Jesse Alexander and Brett Ireland.
One of the performances of the night came in heat 4 when rookie Jenna Kervers recorded a second placed finish behind McCarthy holding out Hayden Vickers and Jesse Alexander in what was a great drive in what was only her third night in a Wingless Sprint.
Following his recent win, along with his A-Main victory at Murray Bridge on his season debut on October 16, McCarthy will enter the meeting this weekend in great form, but he will have to contend with 33 other drivers, including two former Australian Champions.
Former Australian and current South Australian Champ Joel Chadwick will return to racing this Saturday after sitting out the opening 3 Wingless Sprints of SA events, while inaugural National Champion Rory Button will make the tow up from Mount Gambier.
Adding to the classy line-up will be Jake Ashworth and Melissa Crouch, with both drivers taking to the track for the first time this season.
With opening night winner Kirby Hillyer not on the nomination list the likes of Ryan Alexander, Mitch Broome, Rylan Furler, Hayden Vickers, Matthew Kennedy, Anthony Tapley, Rhys Heinrich and Tyson Martin will all be hoping to defeat McCarthy to claim their opening win of the 2021/22 season.
With such strong numbers the format for the night will see six heats and a B-Main prior to the feature event.
Saturday 6th November 2021, Murray Bridge Speedway, Club Show – (34 Cars):
S1 Joel Chadwick, S2 Jake Ashworth, S6 Norm Moore, S7 Melissa Crouch, S8 Darryl Sloan, S10 William Caruso, S11 Tyson Martin, S12 Chris James, S14 Matthew Tyler, S15 Hayden Vickers, S17 Rory Button, S19 Michael Spoljaric, S20 Harley Alexander, S21 Matthew Kennedy, S23 Jack McCarthy, S24 Ross Miller, S25 Ben Cartwright, S27 Cory Hodgson, S33 Brad Evans, S35 Mitchell Broome, S36 Ryan Alexander, S38 James Rodda, S41 Bronson Mauro, S47 Anthony Tapley, S48 Rhys Heinrich, S49 Darryl Knuckey, S53 Nicole Southby, S55 Sharni Pitcher, S57 Kirra-Lee Pitcher, S58 Nate Trewin, S71 Brett Ireland, S82 Caleb Evans, S84 Jesse Alexander, S96 Tamika Pitcher.
Ends Release….
Release by Phil Michell Motorsport Media
For Wingless Sprints of SA.