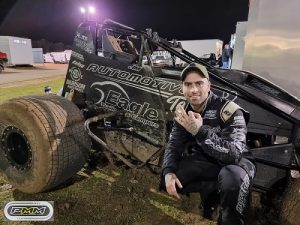 McCarthy Bowls Over The Wingless Competition Again
By Phil Michell Motorsport Media
Jack McCarthy completed an early season hat trick at the Murray Machining and Sheds Murray Bridge Speedway as he stormed to his third successive Wingless Sprint feature event. After winning previously at Murray Bridge and then again at Whyalla in his ex-Kerry Madsen KPC Chassis McCarthy led every lap last Saturday night as he proved he will be a leading contender at the major races coming up throughout South Australia.
The fourth South Australian Club Show, and third at Murray Bridge attracted thirty-three cars therefore the heats were split into three per round with fields of 11 in each. With stacked fields every time they took to the track there were no easy heats and the on-track action was intense.
Six different drivers claimed a heat win including Ryan Alexander, Rhys Heinrich, William Caruso, Jack McCarthy, Bronson Mauro and Melissa Crouch, who was making her first start of the current season.
At the competition of heats Rhys Heinrich qualified his immaculate white and pink #48 on the pole with McCarthy, Brad Evans, Ryan Alexander, Tyson Martin, William Caruso, Mitchell Broome and an impressive Caleb Evans completing the opening four rows.
Tagging onto the back of the field were Bronson Mauro, Matthew Kennedy, Darryl Knuckey and Harley Alexander, having transferred via the B-Main. One driver who was unlucky not to transfer was Darryl Sloan, who rolled hard in turn three after contact with Knuckey while racing for third.
In what was a dominant display once the green flag fell McCarthy would go on to lead all 20 laps with Rhys Heinrich finishing over 3 seconds back while Ryan Alexander completed the podium. Tyson Martin had another great night as he finished fourth ahead of William Caruso, who recorded a season best fifth. Brett Ireland returned to form with a sixth placed run ahead of Mitch Broome, Jake Ashworth, Caleb Evans and Cory Hodgson.
The main drama of the A-Main came on lap six as Brad Evans rode out a big crash in turn three after the car biked up hard before tumbling, with the impact cracking the chassis.
Unfortunately, the night proved to be a tough one for several drivers including current South Australian Champion Joel Chadwick, who's season debut didn't go to plan. After missing hot laps and the opening round of heats Chadwick managed to record a seventh placed finish in heat six but he called it a night shortly after due to an engine failure.
The next Wingless Sprints SA event will see the competitors head to the Riverland for the first time this season for the opening show at the Sunline Speedway, Waikerie on November 20, 2021. Currently the nomination list includes drivers such as Rhys Heinrich, William Caruso, Cory Hodgson, Anthony Tapley and Hayden Vickers.
Ends Release….
Release By Phil Michell Motorsport Media
For Wingless Sprints of SA.