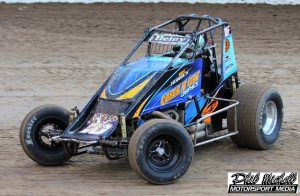 All The Way Win For Heinrich
By Phil Michell Motorsport Media
Joel Heinrich left the controversy of last week behind him as he stormed to a dominant all the way win in the second Wingless Sprint main event of the Murray Bridge season on Saturday night (October 5). After starting on the pole Heinrich was never really troubled as he survived several restarts throughout the 20-lap decider as he defeated last weekend's winner Mitch Broome.
In fact, the top four drivers were the same as the week before, but only in a slightly different order, as Cory Hodgson finished third for the second consecutive week while Anthony Tapley completed the quartet of inform drivers.
Fifth place went the way of Kirby Hillyer, but after starting on the third row he appeared to have thrown away his chances a good result in turn four on the opening lap after spinning to a halt bringing on the caution. While he was able to restart Jack McCarthy wasn't so lucky as he attempted to avoid the spinning car, he contacted the outside wall damaging his immaculate #23 for the second week in a row.
Teenager Hayden Vickers was impressive to finish sixth in only his second competitive start while Melissa McMillan, Renee Pestka, Patrick Monaghan and Nicole Southby all recorded a top 10 finish. Darryl Sloan and Anthony McMillian were the only other finishers.
The night began with 18 drivers signing in for competition, but the field was quickly cut to 17 with Jason Bolitho failing to make it onto the track for the opening round of heats.
Heat 1 saw what was probably the race of the night as Melissa McMillan got the best of Cory Hodgson to take what was a popular win but it was all for nothing as her #73 failed to make weight as it crossed the scales handing the win to Hodgson. Mitch Broome and Kirby Hillier completed the top three.
The second heat of the night saw a similar outcome as Jack McCarthy was stripped of his heat victory giving Darryl Sloan maximum points.
The final two preliminaries saw Anthony Tapley, who won by over a second, over McCarthy and Broome while Joel Heinrich, who was second in heat 2, took the win in the final heat ahead of Hodgson and Mick Barker.
After the busy start to the season the drivers will now take a well earnt weekend off before returning to Murray Bridge on October 19 for the final Club Show before the opening round of the State Series at the same venue on November 2.
Release By Phil Michell Motorsport Media – pmmedia78@hotmail.com
For Wingless Sprints SA
Ends Release…