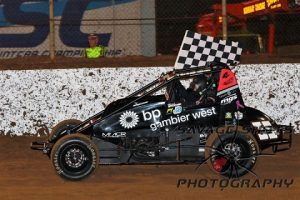 Mitch Gets Out The Broome at MMS
By Phil Michell Motorsport Media
Mount Gambier's Mitch Broome chalked up the opening Wingless Sprint A-Main of the South Australian season after dominating the 20-lap finale at the Murray Machining and Sheds Murray Bridge Speedway on Saturday night (September 28). After starting on the front row Broome was untroubled throughout the duration going on to win comfortably ahead of Anthony Tapley and Cory Hodgson.
With a couple of late entries, the night began with 19 cars in the pit area, which was an impressive start to the new season. The field was bolstered by several Victorian teams with teenager Blake Walsh, Bendigo racers Boyd Harris, Reece Harris and Jeremy Pearson and Marlin Carrigan-Walsh making to trek to Murray Bridge.
For Walsh the journey was made worth while with an opening heat victory over Jack McCarthy and Anthony Tapley while heat two went to Brad Evans ahead of Mitch Broome and Darryl Sloan.
The second round of heats saw Broome take heat three with Tapley and McCarthy in hot pursuit while the final heat went to local Brett Ireland, who defeated Patrick Monaghan by over 10 seconds.
Therefore, Broome and Walsh stated up front for the final and in the early stages they ran 1-2 until the first and only red light of the evening came on as the field began the second lap. As Jack McCarthy and Joel Heinrich battled for third, they made contact with the result being McCarthy riding out a series of barrel rolls in turn 1.
As a result, Heinrich was sent to the rear of the field and he would eventually fight his way back to fourth, narrowly missing the podium.
For the rest of the event the real emphasis was on who would finish second with Walsh, Tapley and Hodgson involved in a great fight.
As the chequered flag fell it was Broome ahead of Tapley, Hodgson, Heinrich and Walsh with Boyd Harris, who was stepping back from racing 360ci Sprintcars, Darryl Sloan, Marlin Carrigan-Walsh, Brett Ireland, who had a late spin, and an improving Nicole Southby completing the top 10.
Official A Main Results – Murray Bridge Speedway, September 28, 2019.
1st S35 Mitchell Broome
2nd S47 Anthony Tapley
3rd S27 Cory Hodgson
4th S16 Joel Heinrich
5th VX97 Blake Walsh
6th V8 Boyd Harris
7th S8 Darryl Sloan
8th VX72 Marlin Carrigan-Walsh
9th S71 Brett Ireland
10th S53 Nicole Southby
11th S15 Hayden Vickers
12th S96 Tamika Pitcher
13th V80 Reece Harris
14th S93 Latisha Helyar
15th S57 Patrick Monaghan
16th VX40 Jeremy Pearson
DNF S23 Jack McCarthy
DNS S7 Norm Moore
DNS S33 Brad Evans
This Saturday night the Wingless action will continue at Murray Bridge with another strong line-up. A majority of last weekend's competitors are returning including last start winner Mitch Broome, Joel Heinrich, Jack McCarthy, Cory Hodgson and Darryl Sloan but the field will be strengthened by the return of multi-time National Champion Joel Chadwick.
Joining Chadwick on track for the first time this season will be the likes of Renee Pestka, Kirby Hillyer, Mick Barker, Jamie Crafter, Normie Moore and Mildura's Anthony and Melissa McMillan.
Current Nominations (19 Cars) – Murray Bridge Speedway, Saturday 5th October 2019 – S5 Joel Chadwick, S8 Darryl Sloan, S11 Normie Moore, S15 Hayden Vickers (ROF 2), S16 Joel Heinrich, S22 Jamie Crafter, S23 Jack McCarthy, S27 Cory Hodgson, S28 Renee Pestka, S35 Mitchell Broome, S37 Anthony McMillan, S47 Anthony Tapley, S52 Jason Bolitho, S53 Nicole Southby, S57 Patrick Monaghan, S73 Melissa McMillan, S77 Mick Barker, S86 Kirby Hillyer
S96 Tamika Pitcher
Release By:
Phil Michell Motorsport Media – pmmedia78@hotmail.com
For Wingless Sprints SA
Ends Release…