The Victorian Wingless Sprints are excited to welcome on board autObarn as the naming-right's sponsor of the 2017-18 season Super Series, which is set to get underway on December 16, with last weekend's opening round unfortunately being cancelled due to rain.
Off the back of what was a hugely successful 2016-17 season Eastern Challenge, autObarn has decided to renew their support increasing it to the hotly-contested state-wide Super Series.
"It's fantastic to have the support of a nationally recognised company and we couldn't be happier to welcome autObarn back on board for another season," expressed Victorian Wingless Sprints President Adrian Densley.
This season's Super Series will be fought out over six rounds, with plans currently in place to reschedule the opening round, supported by Heytesbury Stockfeeds, which was set to take place at Simpson Speedway last Saturday night, but was unable to go ahead due to inclement weather.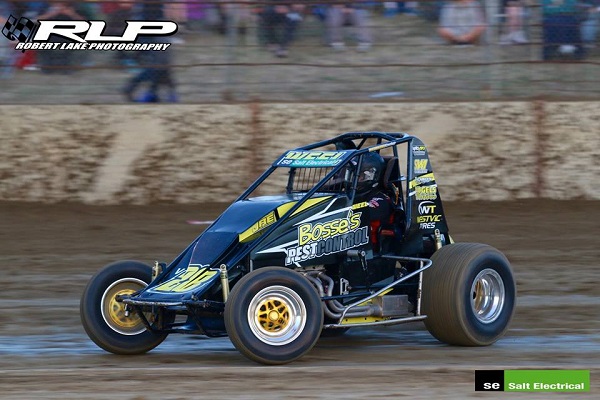 Photo: Robert Lake Photography
The defending Super Series Champion Luke Weel will no doubt be one to watch as he attempts to emulate last season's performance to get his series defence off to the best possible start.
Runner-up to Weel in last season's series point standings, Dayn Bentvelzen will look to continue his Avalon Jackpot Invitational form and will have his sights set on going one better this season, as will current Australia # 3 Daniel Storer, who took out the 2015-16 Super Series.
Off the back of winning last season's Victorian Title and placing fourth in the Australian Championship, Glenn Watts is sure to be a tough contender, with his consistency having rewarded him with three feature-race wins last season.
Amongst the nominations, Travis Millar will be piloting the Fitzpatrick Autosports Vic # 2 car, as well as regular front-running father and son duo Peter and Wayne Logue, defending Avalon Raceway Track Champion Chris Halesworth, Luke Storer, Carly Walsh, Marcus Green, Mathew Symons and Mathew Balcombe.
Once again flying the flag for South Australia, Mitchell Broome will be returning this season, having made a strong showing in the 2016-17 season series, finishing just outside of the top three in fourth, along with fellow South Australian Michael Spoljaric.
Returning to the track after a large wreck at Nyora Raceway, Michael Skene will be joined by ex-Formula 500s racer Jeremy Beddison, who enjoyed a strong run recently at the season opening Twin Feature event at Geelong's Avalon Raceway, as did youngster Todd Hobson, who has already collected his first podium of the season on the same night.
For more information about the Victorian Wingless Sprints, visit their website at www.awsr.com.au/vic. You can also LIKE them on Facebook by searching Victorian AWSR Wingless Sprintcars or FOLLOW them on Twitter by searching @VicWinglessSpri.
2017-18 Victorian Wingless Sprint AutObarn Super Series Schedule:
TBC
AutObarn Super Series Round 1 – TBC
December 16
AutObarn Super Series Round 2 – Avalon Speedway (Geelong)
January 7
AutObarn Super Series Round 3 – Premier Speedway (Warrnambool)
January 13
AutObarn Super Series Round 4 – Bairnsdale Speedway
February 10
AutObarn Super Series Round 5 – Premier Speedway (Warrnambool)
March 17
AutObarn Super Series Round 6 Grand Final – Borderline Speedway (Mount Gambier, SA)