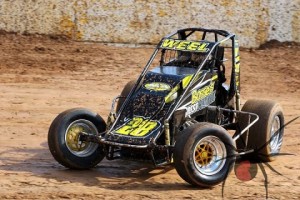 Luke Too Good Behind the Weel At MMS
By Phil Michell Motorsport Media
The Murray Machining and Sheds Murray Bridge Speedway will host the Wingless Sprints for the third successive week with a field of 14 drivers nominated including the current Australian Champion Joel Chadwick, who will be making his first start of the year due to his recent two wheeled Cycle Speedway commitments. Despite running the #1 on the tail he will still find the competition extremely tough as the field has several 2017/18 season feature winners in it including Matthew Kennedy, Anthony Tapley and Jack McCarthy.
The event this weekend will be the second of the 3-2-1 Concept meetings with a little extra prize money on offer for the podium place getters. In addition to the drivers already mentioned the line-up will also include regular front runners Spen Taylor, William Caruso, Jake Ashworth and Aaron Doe. Another pleasing aspect of this Saturday's event is the number of rookies in the field with Ben Harris, Shane Hammerstein and Daniel Smith set to compete which is a great sign for the growth of the category in South Australia.
At the previous Track Championship round a week a go it was Victorian Luke Weel who swept the feature race honours in a great drive to defeat Matthew Kennedy by over 2 seconds in the 20-lap final. In a race that saw the field spread out quite considerably the next best was Aaron Doe, a further 9 seconds a drift, with Spen Taylor and William Caruso rounding out the top five. Just outside the top five was Michael Spoljaric, who failed to start his opening heat, while Anthony Tapley and Ben Harris completed the finishers.
Earlier the two heat races were totally dominated by Weel and Kennedy with Kennedy getting the best of Weel in heat 1 with the results reversed in heat two. Aaron Doe and William Caruso picked up a third placing each in the preliminary heats.
Nominations
Murray Bridge Speedway
321 Concept Meeting – Saturday 9th December 2017: A1 Joel Chadwick, S2 Jake Ashworth, S9 Ben Harris, S10 William Caruso, S23 Jack McCarthy, S24 Aaron Doe, S30 Jaime Andrews, S32 Daniel Smith, S46 Spencer Taylor, S47 Anthony Tapley, S79 Shane Hammerstein, S80 David Cuppleditch, S81 Wayne Kirley, S82 Greg Cunningham.