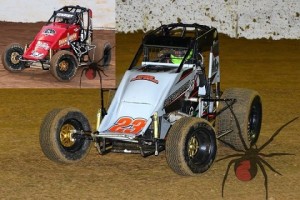 McCarthy and Kennedy Share Twin Features
By Phil Michell Motorsport Media
For the second time this season Matthew Kennedy drove his immaculate #21 Eagle into victory lane at the Murray Machining and Sheds Murray Bridge Speedway as he won the second of the Wingless Sprint Twin Features last Saturday night. Despite winning the second of the 20 lap A-Mains from the front row his best performance came straight off the trailer in race 1 where he drove to third after starting from position 15.
With the dual feature starting line up determined by a random draw getting a front row start was extremely beneficial in a 17-car field and as it panned out both features were won from the front row. Feature 1 saw rookie Jack McCarthy and Mildura's Travis Beasley line-up on the front row with Anthony Tapley and Melissa McMillan on row two.
As the green flag fell Tapley got a great start and led the field only to have the caution flag come out in turn three after Brad Beasley spun and was collected by Michael Spoljaric, who retired with a flat left rear tyre.
The field lined back up for a complete restart with McCarthy making a better start and he was able to hang on for his maiden feature win in his #23 Cool. Second place went to Aaron Doe ahead of Kennedy, Tapley, Greg Cunningham, Travis Beasley, Wayne Kirley, Anthony McMillan, William Caruso and Brad Beasley.
Feature 2 saw a complete invert of the starting line-up with Carso and Kennedy squaring off on the front line with Wayne Kirley and Brad Evans on row two. At the start Caruso got the jump and led the early stages of the race comfortably only to have Kennedy run him down with Kennedy making an impressive outside pass for the lead. Caruso would hold onto second ahead of Spoljaric, Kirley, David Cuppleditch, Brad Beasley, Brad Evans, Doe, McCarthy and Cunningham.
Following on from the twin feature night the Wingless Sprints will be back in action again this Saturday night at the Murray Machining and Sheds Speedway in addition to a club show at the Timmis Speedway at Mildura.
After last weekends field of 17 drivers both events are a little down on competitors due to the fact the Mildura competitors who raced at Murray Bridge last Saturday night are staying at home to race in front of their local fans. Murray Bridge should see 10 cars front for competition while 6 nominations have been received for Mildura.
The Murray Bridge list includes last weekend's front runners Matthew Kennedy, William Caruso and Aaron Doe along with the likes of Spencer Taylor and Renee Pestka who were both missing last week.
Travis and Brad Beasley along with Jason Bolitho should be the leading contenders at the Victorian event.
Nominations
Murray Bridge Speedway – Saturday 2nd December 2017: S2 Jake Ashworth, S10 William Caruso, S21 Matthew Kennedy, S22 Jamie Crafter, S23 Jack McCarthy, S24 Aaron Doe, S28 Renee Pestka, S32 Daniel Smith, S46 Spencer Taylor, S47 Anthony Tapley.
Timmis Speedway, Mildura – Saturday 2nd December 2017: S4 Travis Beasley, S37 Anthony McMillan, S51 Jay Brown, S52 Jason Bolitho, S69 Brad Beasley, S73 Melissa McMillan.