It was local Domain Ramsay who took out last Saturday night's second AutObarn Super Series round, supported by Salt Electrical, at Geelong's Avalon Raceway; however, he certainly didn't go unchallenged from the bumper field of Wingless Sprint challengers.
Commencing with a minute's silence to commemorate the recent passing of Jaimie-Lee Smith, a teenage Wingless Sprint racer who was taken from us far too soon, it was certainly an emotion-charged event.
Following the postponement of last month's opening AutObarn Super Series round at Simpson Speedway, the second round attracted a total of 67 nominations, but in the end, it was Ramsay, from Geelong in Victoria, who came out on top at the completion of the 25-lap event.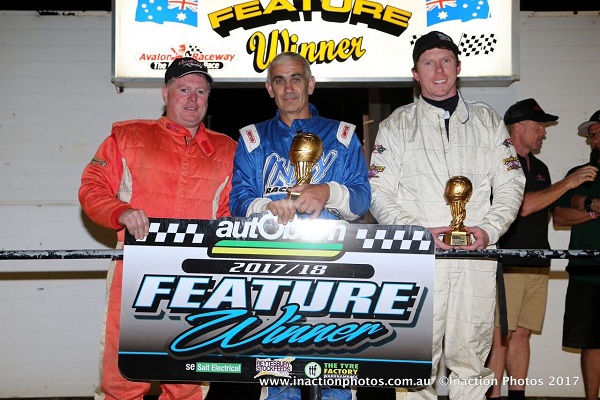 Photo: InAction Photos
Making a return to the Wingless Sprint class for the first time since 2013, when he participated in the Australian Championship at Warrnambool's Premier Speedway, the 410 Sprintcar and Speedcar regular proved his versatility on Saturday night, overcoming plenty of tough competition to claim the victory, after a strong qualifying result which saw him qualify for the feature race on the inside of the second row.
At the drop of the green flag, it was pole-sitter and current Australia # 3 Daniel Storer who got the jump over second-placed Dayn Bentvelzen, who has already tasted victory at the track earlier this season, but his lead didn't last for long, as Mathew Symons made a charge forward from the opening lap, quickly making his way into second place and stealing the lead away from Storer on lap five.
As Storer slipped back to fourth place, Ramsay made his move, powering forward into second on lap seven, before contact with race leader Symons in subsequent laps, along with a simultaneous incident in the middle of the pack, resulted in Symons and numerous other cars being forced to retire to the infield, gifting the lead to Ramsay, who couldn't be stopped, going on to greet the chequered flag in first place.
Bentvelzen did well to come home in the runner-up spot, after slipping back to fourth briefly in the early stages, while Wayne Logue delivered a great drive to claim the final podium place, after starting from position seven. Unable to hold on to his early lead, Daniel Storer finished just outside of the podium in fourth, followed by Australian Wingless Sprint Racing President Mick Parry in a creditable fifth.
Completing the top-10 finishers were Alex Thomson, Todd Hobson, defending Avalon Raceway Track Champion Chris Halesworth, David Alford and the returning Andy Hibbert.
The remaining finishers consisted of Ross Jarred, current Victorian Champion Glenn Watts (who was involved in an earlier accident and was forced to restart with his damaged car at the back of the field), Ebony Hobson and Scott Irons.
Joining Symons on the infield were Travis Millar (crash), defending Super Series Champion Luke Weel (crash), Luke Storer (crash), Marcus Green and Geoff Cook.
Earlier in the night, the heat-race wins were shared between Weel, Cook, Thomson, Green, Symons, Bentvelzen, Daniel Storer, Todd Hobson, Bhoe Paterson and Hibbert.
To accommodate the large car count, three eight-lap B mains were completed, with the top-two drivers from each B main securing a transfer spot into the feature race. Taking out B main one, Todd Hobson claimed the win ahead of Irons, with Hibbert beating out Weel in B main two, and Alford coming home first in B main three, ahead of Halesworth.
It's gearing up to be a busy Christmas-New Year period for the Victorian Wingless Sprints, with four consecutive shows scheduled over four nights, beginning with a club show at Bairnsdale Speedway on Boxing Night (December 26), followed by another club show at Rosedale Speedway the next night (December 27). Drivers will then head to Laang Speedway to contest the Crossfire Shootout on December 28, followed by the Western Shootout at Hamilton's Western Speedway on December 29.
Ringing in the New Year with the three-round Summer Slam Series, drivers will return to Western Speedway on January 5 for the opening round, with round two being held the following night on Mount Gambier's Borderline Speedway. The third and final round of the Summer Slam Series will take place at Premier Speedway on January 7 and will be run in conjunction with the third AutObarn Super Series round.
For more information about the Victorian Wingless Sprints, visit their website at www.awsr.com.au/vic. You can also LIKE them on Facebook by searching Victorian AWSR Wingless Sprintcars or FOLLOW them on Twitter by searching @VicWinglessSpri.